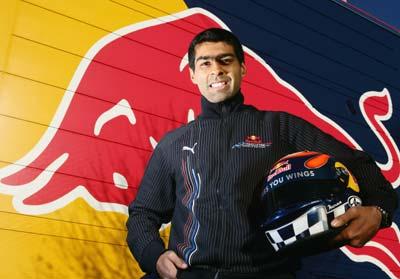 India's Karun Chandhok has received the biggest opportunity of his career thus far with a call up from the Red Bull Racing Formula One team to test for them.
The ace driver will test for Red Bull over two days at the Circuito de Catalunya in Barcelona on November 13 and 14.
Chandhok has been backed by the energy drink giant since the beginning of this year and had a successful first season in the GP2 series, including a historic first win for an Indian at the daunting Spa circuit in Belgium. This made him the only Red Bull backed driver to have won a race in this year's GP2 series, which runs as a support series for the Formula One world championship, providing drivers with the opportunity to create an impression on F1 bosses.
The Madras born driver spoke excitedly about the opportunity presented to him.
"It really is a dream come true for me. Ever since I was about four years old I have dreamed of being behind the wheel of a Formula One car and this is a day that not just myself, but my family and everyone who has supported me over the years, has thought about for a long time. This year has been very good for me in GP2 in that I was able to re-establish myself in Europe and to be called up by a strong mid-field team for my first F1 test is the icing on the cake of a very productive year. I really have to thank Christian Horner, Dr. Helmut Marko and everyone involved at Red Bull Racing for this opportunity, I'm really looking forward to it," Chandhok said.
The news of Chandhok's test represents another big step for Indian motorsport.
Christian Horner, team principal of the Red Bull Racing spoke ahead of the test, said the team had been following Chandhok's progress in the GP2 series.
"Karun has been supported by Red Bull for since the start of the year. His progress in GP2 this year has been clearly evident, culminating in a win at Spa. Barcelona presents a good opportunity to put Karun in one of the cars, as our regular test driver Sebastien Buemi will be competing in the Macau F3 race," he said.
Red Bull Racing had an impressive in the 2007 Formula One season, having finished fifth in the Constructors World Championship this year. The team has two established drivers, Mark Webber and David Coulthard, and also boasts an increasingly strong technical line up including the ace aerodynamicist Adrian Newey and Geoffrey Willis. With a strong engine partner in Renault, the team has been a regular in the mid-field this year with a season best third place for Webber at the Nurburgring in Germany.
The test session will be held over three days in Barcelona and is the first of the winter test sessions held in preparation for the 2008 Formula One World Championship. All of the other 10 teams are also expected to attend and will therefore provide plenty of big names as company for Chandhok as he makes his first foray onto the circuit in a Formula One car.
Prior to the test, Karun will have the opportunity to spend some time at the team's factory in the UK getting acquainted with the personnel and use the team's simulator which will allow him a chance to understand the controls and electronics on board a Formula One car.
Karun said he was confident of doing well in test sessions and helping the team with their development for the 2008 season.
"Barcelona is a circuit I've raced on this year in GP2 so at least that is one less thing to learn! These early F1 tests are mainly about getting things reliable for next year with the new regulations so rather than ultimate lap times, it will be important for me to be able to assist the team with information for their development of the new car and electronics. There is a lot to take on board but the team has been very helpful and I'm quite confident that we can have a productive test together," the Indian ace said.
Photograph: Getty Images