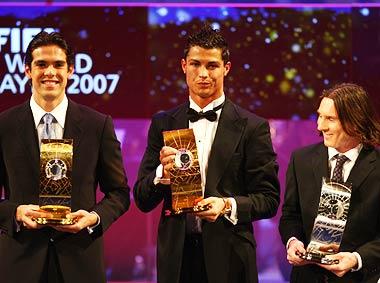 AC Milan playmaker Kaka added to his remarkable haul of trophies and titles on Monday when he was named FIFA World Player 2007 at the FIFA World Player of The Year Gala 2007 at the Zurich Opera House in Zurich.
The 25-year-old Brazilian international beat Barcelona forward Lionel Messi (right) and Manchester United winger Cristiano Ronaldo (left) in the annual poll of national team coaches and captains.
Kaka collected more points than the combined total of the other two nominees, world soccer's governing body FIFA said after the ceremony here. He won 1,047 votes while Argentine Messi gained 504 and Portuguese Ronaldo picked up 426.
Chelsea and Ivory Coast striker Didier Drogba was fourth on 209. Barcelona and Brazil playmaker Ronaldinho, winner of the award in 2004 and 2005, came fifth.
"Tonight is really special for me," said Kaka, who helped Milan to their seventh European Cup title in May and was also inspirational in Sunday's 4-2 Club World Cup final victory over Argentina's Boca Juniors.
Photograph: Michael Steele/Getty Images