Brazilian superstar Kaka is likely to join Manchester United in a shock loan deal this month, which could lead to a permanent, £50 million move.
The Brazilian superstar midfielder has been heavily linked to a move to Inter Milan with Real Madrid wanting £50 million.
Chelsea, too, is seriously interested in grabbing the playmaker who has now fully recovered from an ankle injury after surgery, the Daily Star reports.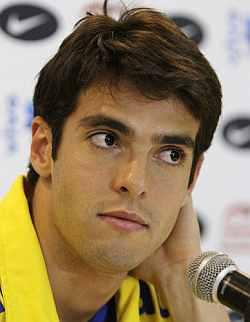 The link has already been established with Kaka, winning a Champions League trophy with Chelsea boss Carlo Ancelotti when they worked together at AC Milan.
According to reports in Spain, Manchester United have now emerged as clear favourites with Real Madrid boss Jose Mourinho happy to do business with his old sparring partner Sir Alex Ferguson.
Mourinho would prefer sending Kaka to United rather than his previous club Inter.
Ferguson has insisted he will not be buying in the transfer window but a loan deal for Kaka would be the perfect solution.