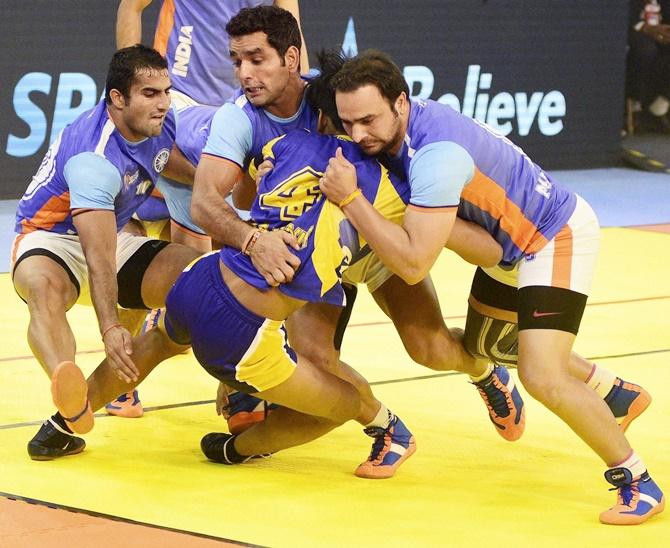 IMAGE: Indian players try to catch Thailand's player during the semi-final match of Kabaddi World Cup in Ahmedabad on Friday. Photograph: PTI.
Seven-time defending champions India streamrolled a hapless Thailand 73-20 to storm into the final of the 2016 Kabaddi World Cup, in Ahmedabad, on Friday.
The Indians proved their supremacy and prowess in the sport and toyed with the Thais in the lop-sided second semi-final.
India will face rising Asian power Iran in the summit clash of the tournament on Saturday.
Iran had earlier defeated South Korea in a low-scoring thriller. Iran came back from 11-13 down to beat the Koreans by 28-22.
In the second semi-finals, it was total domination from the experienced Indian side against a young and energetic Thailand team.
Such was India's domination in the tournament that they gave away just 20 points to their opponents in four out of six games.
India, who had lost just one encounter in the tournament-- first against Korea -- scored 42 raid points as against Thailand's 15.
In tackle points also, India were in complete control as they scored 18 points against Thailand's just four, while the hosts had 12 all outs.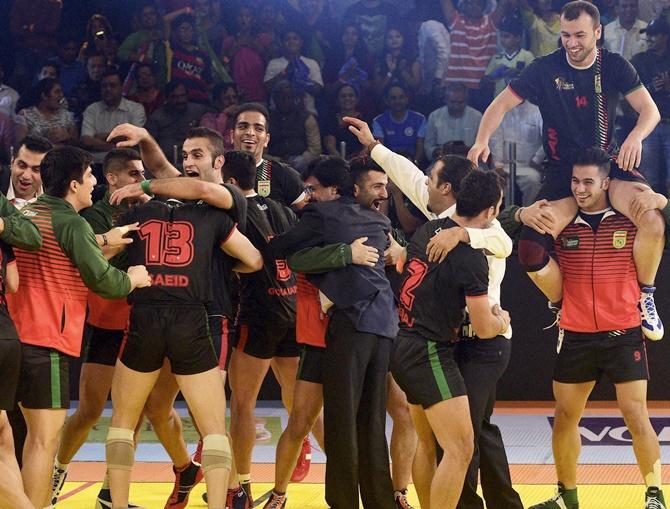 IMAGE: Players of Iran celebrates after victory against Korea. Photograph: PTI.
Earlier in the day, Iran also ended Korea's unbeaten run in the tournament.
After losing the toss, Iran was asked to make the first raid of the game and Meraj Sheykh made sure that he does not disappoint his side.
However, Koreans managed to put pressure on Iran till the end of first half as they lead 13-11. Jang Kun Lee remained their top scorer with four raid points.