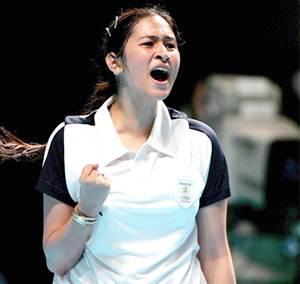 Jwala Gutta launched a verbal tirade against the Badminton Association of India on Friday, saying the decision to recommend a life ban on her has only made it a laughing stock.
"Everybody is laughing at their face. The media is laughing at them. It is really overwhelming," she told reports in Hyderabad on Friday, a day after the Delhi high court passed a stay order and instructed the BAI to allow the embattled shuttler to participate in upcoming tournaments till the disciplinary authority takes a final decision on the issue of her alleged indiscipline.
The BAI's disciplinary committee had recommended a life ban on Gutta for allegedly trying to prevent some players of her franchise, Krrish Delhi Smashers, from playing a match against Banga Beats in the Indian Badminton League in August.
Gutta said as a result of the BAI's decision not to consider for any international tournaments she could miss out next month's China Open as the BAI hasn't sent her entry for the Super Series event by the stipulated October 8 deadline.
The China Open is scheduled from November 12 to 17 in Shanghai and the last date for entries was last Tuesday.
Gutta said she learnt on Friday that her entry was not sent by the BAI.
"I have no idea. I just learnt from Ashwini (Ponnappa) that they did not send my China Open entries also. I was supposed to play at my own cost. I am not even asking them to put me in the team," she said.
"I am playing tournaments at my own cost. Even then, you are stopping me from playing. Who are you to stop me from playing? Whose way am I coming in? I am not coming in anybody's way. You send who you want to. I am playing at my own cost.
"Why do you see me as a threat? I hope they will send my entry. I want to play badminton. That's my only aim in life," she added.
The BAI had earlier withdrawn her from next week's Denmark Open after forming a three-member committee to decide on the recommended life ban for a disciplinary breach in the IBL.
Gutta regretted that chief National coach Pullela Gopichand expressed his inability to help her after the BAI disciplinary committee recommended the life ban.
"I had called Gopi but he said he could not help," she said.
Following the ban threat, Gutta dragged the BAI to the Delhi high court, which, on Thursday, allowed her to participate in upcoming tournaments.
The Commonwealth Games gold medallist said all she wants is to focus on her game and play tournaments.
"I want to get back into the badminton court. I like being here (Lal Bahadur stadium in Hyderabad where she practices). I want to play tournaments. I am much stronger now."
Gutta, who had won the women's doubles bronze in the 2011 World Championships, thanked doubles partner Ponnappa, coach S M Arif, sports NGO Clean Sports India, Banga Beats coach Vimal Kumar, her friends and the media for supporting her cause.
"I am happy that the order of the honourable judge was in our favour. I am happy that I am allowed to play. My whole life I have done nothing but played badminton. I just hope to continue to do that and bring laurels to the country," she said.
Talking about the allegation against her that she tried to prevent players of her franchise, Krrish Delhi Smashers, from playing in an IBL match in August, she said she did not provoke or prevent anybody and the delay was because the concerned authorities were trying to sort out the matter.
She said she spoke with Union Sports Minister Jitendra Singh, who is looking into the issue. The minister had earlier said he could look into the matter if Jwala approached him.
The Hyderabadi shuttler said she did not commit any crime.
"I am happy that I am happy standing up. We are just fighting for our rights," she said, adding, it is "ridiculous" to impose a life ban on her.
Image: Jwala Gutta