Jesus Gil, the controversial owner of Spanish soccer club Atletico Madrid and one-time mayor of the glitzy resort of Marbella, died on Friday six days after suffering a stroke.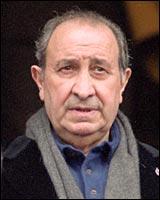 The outspoken real estate tycoon, 71, was admitted to hospital in Talavera de la Reina, southwest of Madrid, on Sunday and was later transferred to a clinic in the capital where he died at 1500 GMT on Friday.
"He was a unique person, different to other presidents of football clubs in Spain," Deportivo Coruna president Augusto Cesar Lendoiro told Radio Marca.
"He experienced great triumphs and made great errors, but he will always occupy a special place because of what he did at Atletico Madrid. He will not just be missed by Atletico fans but by football fans in general."
Gil's family said that a funeral chapel would be installed at Atletico's Vicente Calderon stadium and that he would be buried in the city's Almudena cemetery at 1600 GMT on Saturday.
Atletico's league match against Real Zaragoza, which was scheduled to take place on Saturday, has been postponed until the following day.
Gil had a pacemaker fitted at the start of 2003 after suffering a series of problems due to high
blood pressure.
He stepped down as Atletico president in May 2003 after 16 years at the helm, citing his health as one of the reasons.
Gil was replaced by long-time deputy Enrique Cerezo, but retained the majority shareholding in the club while his son Miguel Angel holds the managing director's post.
He became Atletico president in 1987 and was rarely out of the headlines.
He became embroiled in a series of legal wrangles linked to his position at the club and as former mayor of Marbella, spending several short periods in jail during investigations into his affairs.
Atletico won three King's Cups during Gil's 17-year reign at the club, but the high-point came in the 1995-96 season when they completed a first ever league and Cup double under Serbian coach Radomir Antic.
However, the club was unable to build on its success and after a judicial intervention in which Gil had to surrender temporary control as president they were relegated for the first time in 66 years in 2000.
They returned to the first division in their centenary season two years later, but Gil took a back seat at the club following his decision to step down as president last year.
He said his dying wish was to be buried in the Atletico Madrid flag.