Ana Ivanovic celebrated her 23rd birthday by defeating Kimiko Date Krumm 7-5, 6-7, 6-2 to reach the final of the Tournament of Champions in Bali on Saturday.
The Serb will face the winner of Saturday's other semi-final between Daniela Hantuchova and Alisa Kleybanova.
Ivanovic was made to fight hard for her victory by a resilient Japanese opponent who chased every ball. She failed to win a point in her first two service games and then claimed just one of 10 break points before staging a recovery.
Ivanovic saved two set points down 5-3 and won four consecutive games to take the opening set. After serving for the match at 5-3 in the second, she also failed to convert a match point at 6-5 then lost the tiebreak.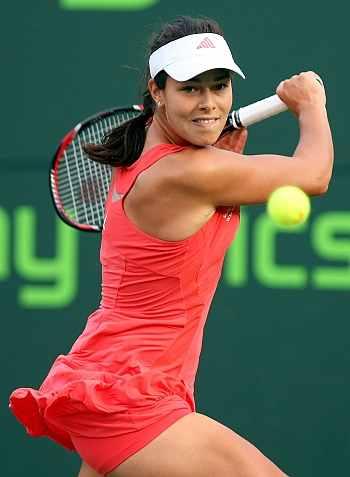 However, she controlled the final set as Date Krumm began to tire.
Having ascended to the number one ranking after winning the French Open in 2008, the Serbian suffered a remarkable loss of form.
While injury played a small part, a growing lack of confidence as the wins refused to come led her into a downward spiral, and earlier this year her ranking sank to 65.
"Confidence is a strange thing and I've been looking for it all over the place, but you realise it's all the time within you. You have to uncover it," she told reporters.
"There have been many disappointing moments. One of the worst was losing in the first round of the US Open last year. It was the first time I had lost in the first round of a Grand Slam, and also I had a match point.
"In my career, usually I was the one saving match points and going on to win. It was a very unpleasant experience, not using my opportunity. It took me a while to get over that one," she added.
It is only recently that Ivanovic has managed to put together a string of positive results, with a victory over Elena Dementieva in Beijing followed by her first title in two years in Linz.
This week she is ranked 24 and if she can go on to win the final she will back inside the top 20, which would go a long way to eliminating doubts she would ever rediscover the form that made her one of the most exciting young players on the Tour.
"I did have doubts, because even though I have a lot of belief in myself you need to prove it to yourself on the court," she said.
"But during the toughest moments my team always believed in me and that was important. They believed in me maybe even more than I believed in myself. They didn't have any doubts, and that gave me confidence.
"But I'm still not there yet. It's a gradual process and I need to achieve a lot more consistency to get back to the top," she added.