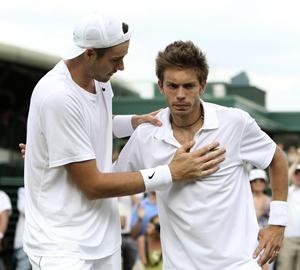 The world's longest tennis match finally ended at Wimbledon on Thursday when John Isner claimed the incredulous fifth set of a three-day epic against Nicolas Mahut 70-68 after 11 hours and five minutes on court.
The American 23rd seed ended the contest with a backhand passing shot after another hour of play on Court 18 after the match had re-started at 59-59 in the deciding set after it was stopped by bad light on Wednesday.
Isner completed an eye-watering 6-4, 3-6, 6-7, 7-6, 70-68 first-round victory with every vantage point taken by a packed crowd on Court 18.
Isner fell to the ground in disbelief and after the two players hugged at the net Mahut sunk into his chair and covered his head with his towel.
The previous longest match was the six hours 33 minutes epic between Fabrice Santoro and Arnaud Clement at the 2004 French Open.
 "I am a little bit tired," an elated Isner said in an on-court interview later.
"When you play a match like this with an atmosphere like this you don't feel tired. This crowd was fantastic.
"The guy (Mahut) is an absolute warrior. I want to share this day with him, it was an absolute honour. I wish him the best and see him somewhere down the road and it won't go 70-68."
"It was just amazing to play today," Mahut said.
"The crowd the last three days were amazing. You were just completely fantastic. John deserved the win. He just served unbelievably."
Isner served 112 aces, Mahut 103 as they both eclipsed the old world record of 78 held by Ivo Karlovic. The match had already beaten the record for the longest set, longest match, most games in a match and most games in a set.
Records broken during the Wimbledon first-round match between John Isner and Nicolas Mahut:
Longest match (time elapsed): Mahut-Isner 11 hours five minutes
Previous record: 6 hours 33 minutes - Fabrice Santoro beat Arnaud Clement, French Open, first round, 2004
Longest match (games played): Mahut-Isner 183 games
Previous records:
Doubles: 122 - Stan Smith and Erik van Dillen (United States) v Patricio Cornejo and Jaime Fillol (Chile) - Davis Cup, 1973
Singles: 112 - Pancho Gonzales beat Charlie Pasarell 22-24, 1-6, 16-14, 6-3, 11-9 - Wimbledon, 1969
Longest fifth set and longest set at a Grand Slam: Mahut-Isner's 70-68 (8 hours and 11 minutes)
Previous records:
Longest fifth set at a Grand Slam: Andy Roddick beat Younes El Aynaoui 4-6, 7-6, 4-6, 6-4, 21-19 - Australian Open, 2003
Longest set: 25-23 John Newcombe beat Marty Reissen 4-6, 6-3, 6-4, 25-23 - US Open, 1969
Most aces by a player and match total: 112 Isner, 103 Mahut
Previous record: 78 - Ivo Karlovic (Croatia) - 2009 Davis Cup v Radek Stepanek (Czech Republic).