The Grand Slams is where the glamour is, but the heart of tennis lies in the smaller tournaments; with the players that strive week in and week out on the circuit, to get into that exclusive group of high-strapping pros.
"I admire people like Roger Federer and Justine Henin. They are stars!" exclaims Mumbai's very own tennis champ Isha Lakhani, eyes lighting up, the dream of being in that top group apparent.
Isha has just crossed one milestone on that journey. Winning the US $10,000 tournament in Trivandrum and making it to the final of the US $25,000 event in Indonesia has helped her into the top-300 for the first time. She is on the tour long enough to understand that while it is not a stunning achievement by itself; it charts a healthy graph for her tennis career.
"I really, really want to play the US Open this year," says Isha, sipping on the coffee at a suburban bistro in Mumbai on a lazy Saturday morning.
"I am banking on the three tournaments, beginning from June, to do well, get into the 230-240 bracket to be in contention for the qualifiers. Luckily, I am not defending any points those weeks, so a good result should push me higher up.
"The level of tennis has increased tremendously in the last two-three years. You can't take anything for granted. You can beat a top 100-ranked player as well as lose to someone who's ranked 700."
Even while her hard-hitting game has sometimes been labelled as "temperamental" or "inconsistent", Isha insists that's how she plays. "Not inconsistent, but I like to dominate points and go for my shots."
Being a left-hander, she says, is an advantage. It can let you take shots on the forehand which, for a lot of players, would have gone to the backhand. And when the forehand is a weapon, like it is for Isha, it's even better. But, finally, the game is all about execution, and all the advantages disappear into thin air when you have to make that shot, at that moment.
"Pressure is always there, whichever sport you play, be it team or individual.
"I guess it is easy to overcome the disappointment, if you've lost, in tennis because there's always the next week and next tournament."
Life on the tour, given the financial constraints and the lack of company thereby of a coach or family member, hasn't been easy. Even when she is in her hometown, Isha has to travel for an hour or more to get to the practice courts, but complaints are rare from this sprightly 23-year-old.
"After all, how many people get to play this sport or represent their country?" asks Isha, who has played three Fed Cup ties for India, tasting four wins and as many losses.
"I was always a restless kid and loved all sports. I used to watch my brother play tennis and do anything I was told. I used to act as a ball-boy or shadow practice, and knew quite early that I wanted to play tennis professionally.
"And now I am used to all the travel and going for tournaments alone."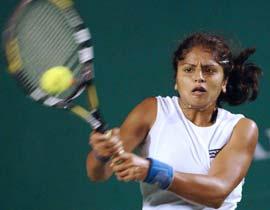 While for most girls of her age touring exotic places around the world would mean a lot of fun and shopping, it means nothing but business to Isha.
"I have never gone shopping or sight-seeing," she says. "I am there to play a tournament. So while I am in it, I just practice and go back to my room. If I lose early I go to the next tournament or go back home. Maybe, one day, I will explore these places."
For now, she's satisfied exploring the 10 blocks around her house and watching sunsets at Juhu beach.
Given the six to seven hours she spends daily on her game and conditioning, spending time at the beach or with her friends is welcome relief.
"The girls play so hard nowadays; you have to reach shots first. The next level is much higher; I am working a lot on getting my game there," she says. "That's why I admire people like Sania Mirza, Mahesh Bhupathi and Leander Paes. Not only have they been up there but have played at that level for so long."
Does she believe, like Sania, she needs a breakthrough like the 2005 Australian Open to graduate to that level?
"I think everyone is that one breakthrough away. Of course, all the credit goes to Sania -- reaching the third round at her first Grand Slam is a great performance. And she has been able to keep that level up, stay in the top -40 for some time."
Though she prefers playing on hard-courts, and by that measure has a better chance at the Australian or the US Open, a break at any Slam would do.
"How can you choose?" she asks. "I want to play all the Grand Slams. Though I have not played on grass for a long time and the clay in India is much different from the European clay, I would want to play there."
Certainly, she has the road-map and the attitude to realise that Grand dream.