South Korea coach Choi Kang-hee humiliated the Iranian people when he said he had been 'badly treated' in Tehran last year and wanted to stop the West Asian's qualifying for the World Cup, Iran boss Carlos Queiroz said on Thursday.
The top two sides in Group A of World Cup qualifying in Asia clash in Ulsan on Tuesday, while Uzbekistan host Qatar looking for a big victory to sneak ahead of the West Asians in the final round of matches.
South Korea have 14 points from seven matches and a strong goal difference of plus seven means they could lose to Iran and still qualify for Brazil.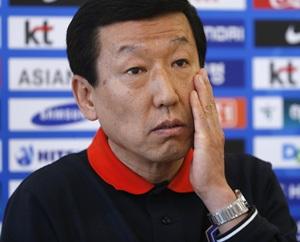 Iran, who beat Lebanon 4-0 on Tuesday, have 13 points and a goal difference of plus five while Uzbekistan have 11 and a goal difference of plus one after they lost 1-0 to the Koreans in Seoul this week.
Despite that victory, Choi said there was little danger of his side easing off against Iran and said he would prefer it if Uzbekistan joined them in qualifying after suffering poor hospitality and bad manners during their 1-0 defeat in Tehran in October.
Queiroz, however, denied the claims after landing in Korea for the crunch clash where he hopes to secure a fourth World Cup finals appearance for Team Melli.
"Choi should apologise to the Iranian people," the Portuguese told reporters.
"He said the Korean team was badly treated in Iran but we gave the best treatment available. He humiliated the Iranian citizens."
A draw in Ulsan would secure automatic qualification for both Korea and Iran unless the Uzbeks can score a big win over Qatar, who are out of contention, which would push the West Asians into third and a playoff place.
The two third-place finishers in the Asian qualifying groups will face off over two legs with the winners advancing to take on a South American side in two matches for a berth in Brazil.
Because of the importance of goal difference, Queiroz was frantically gesticulating on the sidelines against Lebanon on Tuesday, keen for his side to rack up a bigger victory against their beaten and struggling opponents.
"It's never easy to score four goals, but I believed we deserved to score one more, especially in the dying minutes of the game," Queiroz said.
The Portuguese, though, was unhappy that the Koreans did not push on for a bigger victory in the latter stages of their match with Uzbekistan, where they appeared to tire and allow the visitors to dictate play.
"South Korea did not do its best in the game against Uzbekistan," the former Real Madrid coach said.
"I will buy an Uzbek uniform and give it to Choi as a present."
Image:South Korea's manager Choi Kang-Hee
Photograph: Eddie Keogh/Reuters