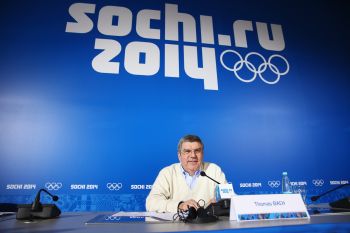 An International Olympic Committee rule that forces a sport to wait seven years before it can potentially become part of the Games programme is "more or less obsolete," IOC President Thomas Bach said on Monday.
Bach, who took over from Jacques Rogge in September, is eager to revamp the organisation, change the bidding process for candidate cities and refresh the sports programme.
The fact that the seven-year rule was included in the Olympic Charter should not pose a problems, the German told reporters.
"I know that the Olympic Charter is not set in stone, we have to evolve, adapt to modern times," said Bach, who has given hope to baseball and softball to be included in the 2020 Tokyo Olympics.
The two sports, hugely popular in Japan, missed the cut for inclusion in the 2020 and 2024 Games but the IOC session is set to discuss possible Charter changes in Sochi this week.
"I personally would be very much in favour (of changing the rule)," said Bach. "The seven-year rule is more or less obsolete. If the IOC, organising committees and international federations agree then the seven-year rule must not be applied.
"I hope there will be changes, I hope I will see some of these changes implemented in my (eight-year) term as president."
Bach has said he wanted to make the Games more attractive by bringing in more sports than the current maximum of 28 in order to win over new generations of viewers and keep the Olympic brand relevant to youngsters.
He said the IOC would discuss all possible changes this week at the Russian Black Sea resort prior to the February 7-23 winter Games and expected decisions to be finalised and voted on by the end of the year.
"I do not necessarily want to drop the seven-year rule. It can be necessary for a completely new sport, but if we all agree in a certain case that the rule must not be respected because technical conditions are met then why not?"
Image: Thomas Bach
Photograph: Streeter Lecka/Getty Images