Sandeep Michael, captain of the junior Indian hockey team that won the Asia Cup by beating Pakistan 5-2 in the final in Karachi, was talking to Chief Correspondent Onkar Singh when someone handed him a packet from Rashtrapati Bhavan.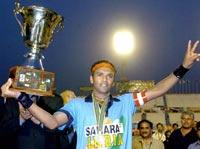 Michael was delighted to find that the packet contained a personal congratulatory message from President A P J Abdul Kalam. "This is decidedly the best gift that I could have received from anyone," he said.
Excerpts from an exclusive interview with the young forward:
How do you look back at the Indian team's victory over Pakistan in the Junior Asia Cup final?
Obviously we are delighted. No Indian team has ever won the final in Pakistan till date. Our chief coach Harinder Singh told us that this is the final day and we have been waiting for this moment for the past two years. This was our 30th match and we worked hard and won it. So far the team has a one hundred per cent record.
Was the team under pressure before the match?
There was a little bit of pressure on the team. I would not say there was no pressure on us. They were playing on their home ground and they had the crowd behind them. We had to overcome this challenge. So there was pressure on us. [But] we were determined that we have to win this game at any cost.
Did you feel that Sandeep Singh would deliver?
Sandeep Singh was in devastating form. He had been consistently converting penalty corners into goals. I had full confidence in him that he would live up to his reputation and give us a thumping win. He surely did it for us. Tushar Khandekar also played an excellent game in the final. The entire team played like one unit and the credit must go to all the 18 players and the four officials of the Indian hockey team.
Did you have a strategy meeting before the final?
We had two or three meetings before the final. This had become necessary after our game with the South Koreans in the semi-final because despite several attempts we could not penetrate very well during that game. We studied the video from that game and noted down our limitations. The coach gave us simple ideas and told us how to overcome those shortcomings. Our self-confidence helped us to win the game against Pakistan.
Which of the Pakistani players worried you the most?
They had good players in the forward line like Shakil Abbasi and Tariq, who were excellent. I could not believe my eyes when they beat South Korea 7-3. After that we managed to beat Pakistan 5-2!
What about your goalkeeper Adrian D'Souza?
Adrian was the hero of our game against South Korea because he managed to block their attacks. Without him we would not have been able to achieve this victory against Pakistan. He plays for the same team, Bharat Petroleum, as me on the domestic circuit. After a stiff game in the semi-final I went up to him and said `Thanks.' I bought him whatever he wanted before the final.
You mean you bribed your goalkeeper?
No, I would not call it a bribe. It was my way of saying thanks. For the first time I kissed a person, my goalkeeper. Something in me told me that it would be his day during our semi-final clash with South Korea and he proved me right.
How would you evaluate the performance of the Indian forwards?
Every single player contributed his bit in ensuring our victory over Pakistan on Pakistani soil. Khandekar played brilliantly in the forward line. Others who excelled were Hari Prasad and Virender Lakra. Even the young boys who had come into the Indian junior team for the first time played exceptional hockey, like Pramod Kumar, V Raja, Adam Sinclair and Prem Kumar. Their body language suggested that they would not only play good hockey, but score goals and ensure an Indian victory.
How many of these players are ready to graduate to the senior Indian hockey team?
One should not be praising oneself, but I can add my name amongst those who are now ready to move over to play with their senior colleagues in the Indian hockey team. Others who can make it are goalkeeper Adrian, fullback Sandeep Singh, Vinay, who plays right half, Vivek Gupta, who plays as centrehalf, and in the forward line Tushar Khandekar. Rest is up to the coach of the senior team Rajinder Singh, who to pick and who not to pick. If we are picked up, we have the ability to deliver.
What do you make of the contribution by coach Harinder Singh?
The coach is the mainstay of any team. Our chief coach is no different. He is an inspiration to the team, both on and off the field. When he speaks everyone listens to him with rapt attention. His speeches prepared us to face any challenge. Both our trainer Sajju Joseph and assistant coach Clarenco Lobo are also very good and helpful. For me they are Amar, Akbar and Anthony.
Who would you give credit to for reaching where you are today?
My parents are sportspersons themselves, my father John Michael and my mother Almelu. Father was a volleyball player and mother was an athlete. And I owe it to them for backing me and allowing me to play hockey.
How does it feel to get a congratulatory message from the President of India?
This is decidedly the best gift that I could have received from anyone. I am waiting to get back home and show this letter to my parents in Bangalore. A personal letter from the President of India is a great honour. I will get it framed and hang it in my drawing room. I am honoured and so is the whole Indian junior hockey team.