Four dropped shots on the last four holes saw Smriti Mehra drop from tied second to tied eighth at the end of the $200,000 Enjoy Jakarta Ladies Indonesia Open.
Smriti, who led at the end of the first day, dropped to second after second round and finally finished tied eighth after a third round of 76 on Sunday.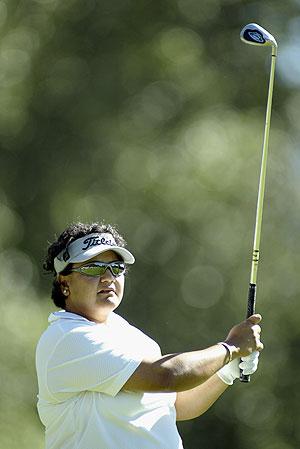 Diminutive Thai golfer Patcharachuta Kongkapan, who was tied with Smriti after second round, showed she has a big future by cruising to a three-shot victory with a four-under-par 68, which saw her dominate the final round at Palm Hill Golf Club with no one able to get close.
Neha Tripathi, one of the rising stars of Indian women's golf, carded an even par 72 in the final round to finish at tied 14th, up from tied 21st overnight. Neha had rounds of 75 and 73 on first two days.
Vani Kapoor, who was as high as tied 11th after second round plummeted to tied 32nd with a final round 79 after round of 76 and 70 on first two days.
Saaniya Sharma (78, 75, 77) was tied 49th.
Smriti, the first round leader, had a poor finish carding a bogey on 15, a double on 17 and a bogey on the last to fall back into a tie for eighth.
Taiwan's Hsieh Yu-ling claimed second place after shooting a 68, while Malaysian amateur Kelly Tan finished in third position two shots further back. She closed with a 74.
Tan led by one stroke at the start of the third and final round from Patcharachuta and veteran Smriti.
However, the Thai golfer swiftly pulled ahead with birdies on the first, third, fourth and seventh. She led by four shots at the turn and cruised home with her only bogey of the day coming on the last.
It is Patcharachuta's first win on the Ladies Asian Golf Tour and the third win of the season by a Thai player.
Nontaya Srisawang claimed the Ladies Thailand Open in February, while Tiranan Yoopan triumphed in last month's Technology Cup in Taiwan.
Photograph: Getty Images