'Athletes get Rs 600 daily for their diet.'
'My kids eat chocolates for Rs 600!'
Rediff.com's Harish Kotian listens to Virender Sehwag's plans for the Olympics.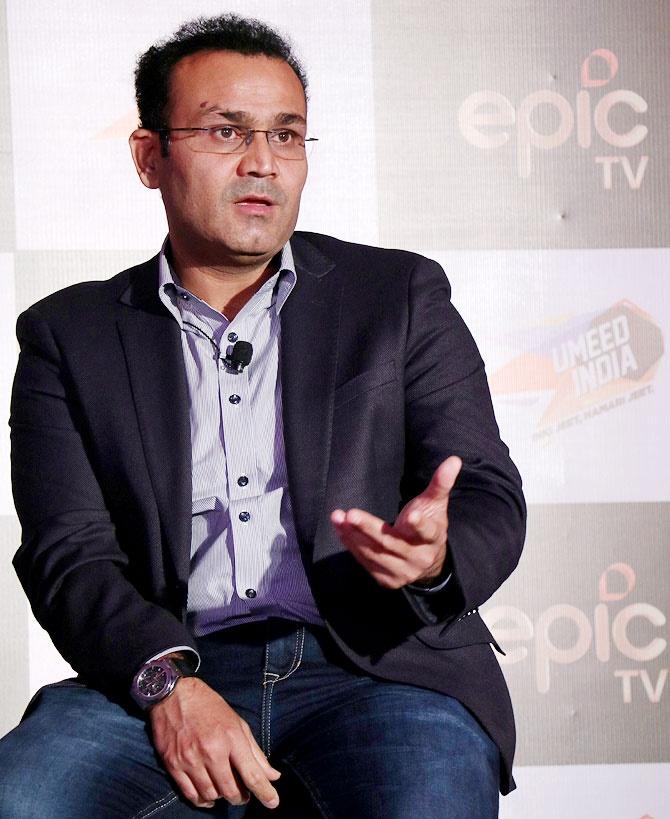 IMAGE: Virender Sehwag was moved by the plight of India's athletes. Photograph: Hitesh Harisinghani/Rediff.com
When he batted, there was no holding him back. When he speaks, Virender Sehwag doesn't restrict himself.
Sehwag, one of Indian cricket's biggest match winners, revealed he was moved by the plight of Indian athletes who have to struggle to obtain funds as they try to prepare for events like the Olympics.
"I discovered that athletes get Rs 600 daily for their diet. My kids eat chocolates for Rs 600!" Sehwag told the media at the launch of his new television show, Umeed India.
"I found it strange that an athlete who represents India in the Olympics gets only Rs 600 for her/his daily diet. It hurt me," Sehwag, who has a reputation for expressing frank opinions on social media, added.
"Some athletes can afford their own diet, some organise it from their homes, but some who can't arrange for it, they are forced to rely on the Rs 600 for their diet," Sehwag pointed out.
Umeed India will see Sehwag interview 13 Indian sports stars about their journey to the pinnacle of sporting glory.
On the roster of interviewees are Olympic medalist wrestler Sakshi Malik, sprinter Dutee Chand, rower Dattu Bhokanal, Paralympian swimmer Suyash Yadav, shot putter Prakash Karhana, judoka Avatar Singh, wrestler Vinesh Phogat among others.
"If you compare the facilities in foreign countries for Olympic athletes, then we are definitely lacking in India," Sehwag said.
"To improve even by a second or two, they need to work hard for two years or more, but if the athletes goes abroad and trains, it will take around eight months for the same."
"In the Olympics even a difference of one second can cost you a medal."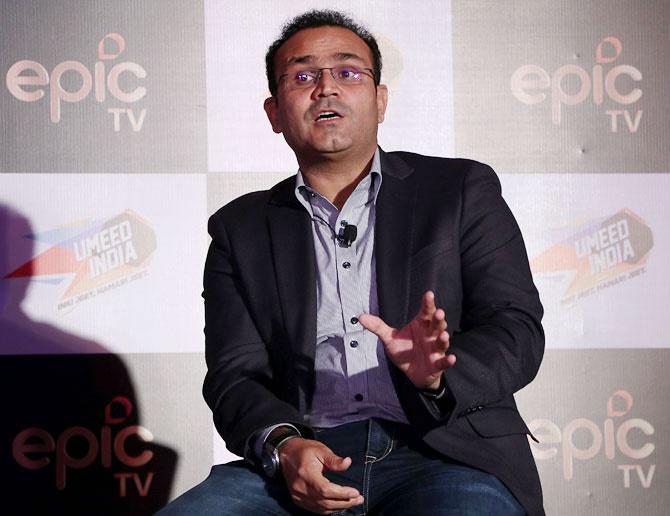 IMAGE: Sehwag wants athletes like rower Dattu Bhokanal, who finished a creditable 13th in the Rio Olympics, to get more support and funding. Photograph: Hitesh Harisinghani/Rediff.com
Sehwag, who recently applied for the Indian coach job and failed to land the coveted assignment, declined to discuss why he lost out to Ravi Shastri.
"I got to know that two months prior to the Olympics athletes are allotted Rs 30 lakh (Rs 3 million) to prepare for the Games."
"In the two months leading up to the Olympics," he said, "the athletes are able to use only Rs 5 lakh (Rs 500,000) while the remaining Rs 25 lakh (Rs 2.5 million) has to be returned because the Games have ended."
"I want the athletes to be given the Rs 25 lakh even after the Olympics so s/he can use it for training and diet and bring results for the country," Sehwag says.
Athletes like rower Dattu Bhokanal, who finished a creditable 13th in the Rio Olympics, Sehwag added, must get more support and funding.
"Dutee Chand, Dattu Bhokanal and Avatar Singh are some of the athletes who have struggled a lot and worked hard to get to where they have reached today," the swashbuckling batsman said.
"Dattu Bhokanal joined the army in 2013 and he didn't know to swim, he hadn't done rowing before, but in the 2016 Olympics he finished 13th. You can't get a more exciting story than this."
"In three years he improved so much!" Sehwag exclaimed, adding. "If he gets proper training in the years to come, he will definitely win a (Olympic) medal."
"My struggle (when he took up cricket) was nothing in comparison to these athletes," Sehwag said candidly.
"For me, cricketing facilities were available in every corner of Delhi, there were so many coaches, there were thousands of academies in Delhi where you can get all the facilities and equipment."
"There is no struggle for us cricketers when you see what these athletes go through."
"The way these athletes train, we cricketers are nowhere close to them when it comes to training."