Novak Djokovic blunted the power serving of South African Kevin Anderson to reach the fourth round of the Indian Wells ATP tournament on Monday, while Mardy Fish was upset by Australian qualifier Matthew Ebden.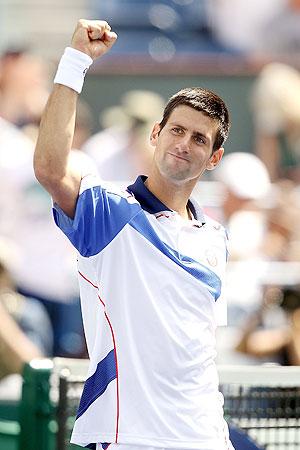 World No. 1 Djokovic broke the towering Anderson twice in a marathon opening set and once in the second to triumph 6-2, 6-3 in one hour, 37 minutes.
"It was a very close match," the Serb said in a courtside interview after breaking Anderson in the sixth and eighth games to win the first set in just under an hour.
"The scoreline does not reflect how close it was, especially the style of the match. In most of our matches ... the first set goes on for half an hour or more. I was fortunate to hold that break and I returned well today."
Djokovic lost to Anderson when they first met at the 2008 Masters Series event in Miami and, despite winning their next three encounters without losing a set, he had expected a tough challenge on Monday.
Djokovic fired down five aces while the six-foot eight-inch (2.03 metres) Anderson delivered seven, but the South African won only 41 percent of his second serves.
Djokovic will next meet Pablo Andujar, who advanced with a 7-6, 6-4 win against fellow Spaniard Albert Ramos.
Fish, runner-up here in 2008, lost to South Africa-born Ebden in a match where the American was slapped with a hindrance call in the second set after he shouted "Come on" during a rally.
"First off, it was totally my fault," said Fish, who was penalised in the ninth game before being broken to trail 4-5. "I made a mistake, and I would have been totally fine with playing a let on it.
"I was just trying to fire myself up, to be honest with you," he added of his yell after hitting an attempted volley winner. "For him to get that on one bounce was an amazing get."
Ebden, a speedy player across the court, did not hit the return as the chair umpire intervened with the hindrance call.
"I think umpire made the right call," the Australian said. "Unfortunately he (Fish) did say 'Come on' before I hit the ball. I did get there in reasonable time to hit the ball. I still had a decent play on it."
Ebden, who broke Fish once in the opening set and three times in the second, was delighted with his victory over the world number eight.
"To beat the top (US\) player here is an incredible feeling," said the Australian, who will next meet big-serving American John Isner. "It's a very big win. I'm pleased with my progress and I've got another big American next round."
Isner powered past Argentina's Juan Monaco 7-5, 7-5 earlier in the day while Frenchman Gilles Simon beat Swiss Stanislas Wawrinka 6-4, 6-4.
Seventh-seeded Czech Tomas Berdych unleashed seven aces on the way to a 6-3, 4-6, 6-2 victory over American Andy Roddick in the final men's match of the day on the showpiece stadium court.