India's campaign at the India Open Super Series badminton tournament ended after P V Sindhu and Anand Pawar lost their respective women's and men's semi-final matches in straight games in New Delhi on Saturday.
While Sindhu lost 21-12, 21-6 to World No 6 Ratchanok Intanon of Thailand in just 31 minutes, Pawar was hardly a match for World No 9 Kenichi Tago of Japan as he went down 21-16, 21-11 in 43 minutes at the Siri Fort Sports Complex.
The only time Sindhu posed any threat to her opponent was in the first game, but in the second, she went down tamely.
The opening game of the Sindhu-Intanon clash was a see-saw battle. While the third seeded Thai started with a 2-0 lead, the Indian was quick to win four points to move ahead.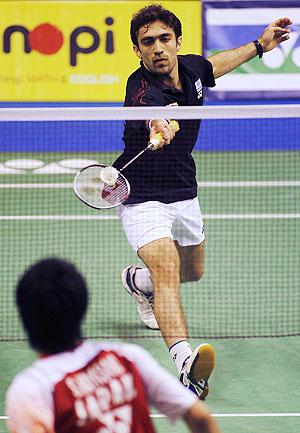 Fortunes ebbed and flowed for both players and it continued till they were tied at 9-9.
The Thai, thereafter, upped the ante and bagged four straight points to make it 13-9. She never let the advantage slip from her hands and simply went for the kill, to claim the game 21-12.
After winning the first game comfortably, Intanon relied on her powerful smashes to take a huge lead of 13 points with the score reading 16-3. Sindhu, seeded eighth, simply struggled to get a grip over her rival.
It was a couple of unforced errors by Intanon that helped earn Sindhu three straight points. But at the end it was a cakewalk for her as she capped off the second game 21-6.
In the men's singles semi-final, it was a hard-fought contest in the opening game, involving long rallies and a number of net plays.
After being tied till 6-6, though Tago surged ahead and always maintained a slight edge, the unseeded Indian fought hard and kept on winning a couple of points or three on the trot to reduce the gap.
Leading 13-12, Tago however surged ahead by clinching five successive points to open up an 18-13 lead. But Pawar was not the one to give up so easily. He won four straight points to make it 16-18.
The sixth seeded Tago broke Pawar for a point and then quickly earned two more to wrap up the game 21-16.
While game wise there wasn't much difference between the two, Pawar made a number of unforced errors.
The second game was a neck-and-neck battle till 4-all before Tago bagged five points at a stretch to take a 9-4 lead.
Pawar managed to win a couple of long rallies and kept earning points in between, but his opponent proved to be too good for him.
The Japanese, throughout, maintained a cushion of five to six points to comfortably seal it 21-11 in the end.
"Conditions were very different today. Shuttle was moving a bit slower today. While Tago was comfortable with the shuttle, I could not shut out from all the distractions (including camera flashes) and focus on the game," Pawar said.
Pawar, however, added that this was his best performance in a Super Series.
"This is my best performance in a Super Series tournament. I didn't think I would advance this far in the competition when I started," he said.
Tago will take on Lee Chong Wei in the men's singles final on Sunday.
Chong Wei defeated Boonsak Ponsana of Thailand 21-11, 18-21, 21-8 in another semi-final clash.
Photograph: Reuters