World number one Roger Federer warmed up for the defence of his U.S. Open title in perfect fashion as he beat fourth seed Novak Djokovic 6-1, 7-5 to win the Cincinnati Masters on Sunday.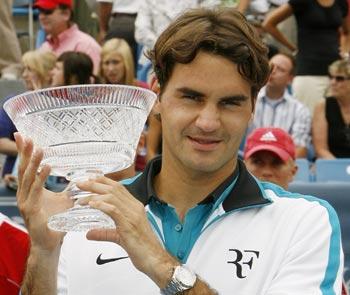 The 15-times grand-slam champion ripped through the first set and then came from 3-0 down to win the second and clinch his fourth title of the year.
"A good start always helps and that was the case today," Federer said at the trophy presentation.
"I played awesome yesterday (against Andy Murray) as well and the whole week's been great for me."
Serb Djokovic had beaten former world number one Rafa Nadal in the semi-finals on Saturday but after a quick turnaround he looked sluggish early on.
A 13-minute second game proved crucial as Federer broke for 2-0 and another break two games later helped him to take the opening set.
Djokovic, runner-up last year, hit back well at the start of the second set and broke the Federer serve in the second game on his way to a 3-0 lead.
But the Swiss broke back two games later and forced three more break points on the Djokovic serve in the eighth game, only for the Serb to hold on.
A rare forehand mistake from Federer gave Djokovic a set point at 5-4 but the Swiss saved it with a big serve.
After holding for 5-5, Federer then broke Djokovic again and served out comfortably to clinch his 16th Masters Series title and his 61st career crown.
Djokovic said. "He was just too good today. But it's been a fantastic last couple of years for me in Cincinnati."
Federer in perfect frame of mind for U.S. Open
A victorious Roger Federer said an intensive training programme and a happy personal life have left him in the perfect frame of the mind for the defence of his U.S. Open title next month.
"I think that's the special part, winning for the first time as a dad," Federer said.
"It's a great thing. Gets me going emotionally a little bit, because I know it's been a wonderful summer. Going through all of what I've been through and then now right away having success again, it's a great moment in my career again."
Federer's wife Mirka gave birth to twin girls last month but the Swiss found time to step up his practice, something he felt he needed to, despite setting a record of 15 grand-slam titles by winning the French Open and Wimbledon this summer.
"The hard work I put in again in between Wimbledon and Montreal - people don't know about it - but things went great," he said.
"I was three weeks at the hospital but I also went for practice almost every day except obviously during the time of the birth and right after.
"My condition trainer was really happy with the work I put in and with Severin (Luthi, the Switzerland Davis Cup captain), we were really precise on what we wanted to work on.
"Of course I was always going to be confident after winning those big titles in a row. I felt like my game was already pretty good in practice so I knew when I was coming here it was just not just to show up, but to really do something.
"(That) it already paid off so quickly, I am a little bit surprised about, but it's been great, and now I look forward to New York."