French club Paris Saint-Germain's star striker Zlatan Ibrahimovic has signed a new 12 million-pound contract at the club.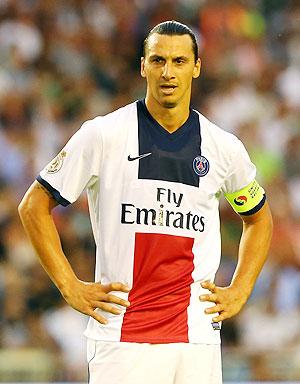 This move has practically ended growing interest from Premiership club ManchesterCity. According to reports, Ibrahimovic, who fired PSG to the Ligue 1 title last season, has been strongly linked with City the last few months.
It's learnt that PSG have offered him a one-year extension to his current deal that would tie him to the French side until 2016, while he will also be handed a large wage increase.
The 31-year-old earns around 210,000 pounds-a-week at present, but that will be raised to 250,000 pounds.
Ibrahimovic, who nearly joined Arsenal as a 16-year-old, has previously admitted his desire to play in England, but he looks all but certain to now play out his career with PSG.
Image: Zlatan Ibrahimovic of PSG
Photograph: Martin Rose/Getty Images