The case of South African runner Caster Semenya will not be discussed at this week's IAAF Council pending completion of tests on the athlete, the International Association of Athletics Federations (IAAF) said on Wednesday.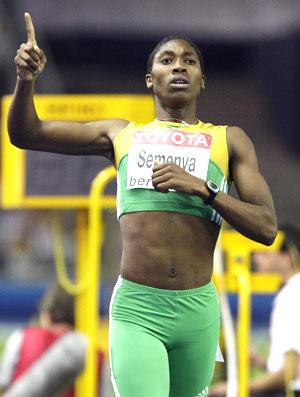 The 18-year-old Semenya, who stormed to victory in the women's 800 metres at August's world championships, underwent gender verification tests this summer in South Africa and Germany after questions about her gender, and a panel of experts has been studying the results for the IAAF.
"There will be no discussion of Caster Semenya's case at the forthcoming IAAF Council meeting to be held in Monaco on 20-21 November," an IAAF statement said.
"The IAAF will not comment upon the medical aspects of Caster Semenya's case. The medical testing of the athlete is still to be completed."
The issue was widely expected to be on the agenda after the IAAF said earlier this year that there would be no decision on Semenya's case before this council meeting in Monte Carlo.
Australia's Daily Telegraph, citing an unnamed source, reported in September that Semenya was a hermaphrodite with both male and female sexual characteristics.
The IAAF has not confirmed the report.
Semenya and family members say the runner is a female and that publicity surrounding the case has caused hardships.
"It's not so easy," Semenya, a student at the University of Pretoria, told Britain's Guardian newspaper in an interview.
"The university is OK but there are not many other places I can go. People want to stare at me now. They want to touch me. I'm supposed to be famous but I don't think I like it so much."
South Africans have reacted angrily to the case and the country's ruling party, the African National Congress (ANC), has denounced the IAAF and Athletics South Africa (ASA) for their handling of the sensitive matter.
The ASA has apologised to Semenya and the public for the way they dealt with the gender verification process.
ASA president Leonard Chuene and its board have been suspended by South Africa's Olympic governing body pending an investigation after Chuene admitted he lied when he denied Semenya had undergone gender tests before the world championships.