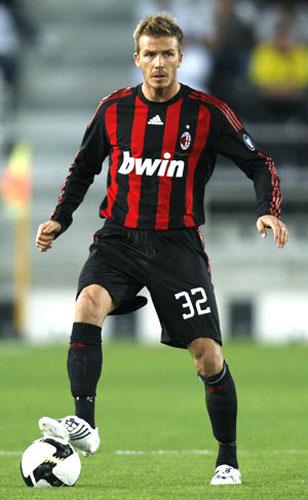 David Beckham wishes he had stayed with Manchester United for his entire career and not left in 2003 for Real Madrid, the former England captain said on Sunday.
Beckham will return to Old Trafford as a player for the first time when his club AC Milan play the second leg of the Champions League knockout-round tie against United on March 10.
"I would love to have stayed at Manchester United for my whole career and never gone anywhere else -- but it was just not meant to be," Beckham said in an interview on BBC Sportsweek.
"I went to Real Madrid and in the last year we were successful so I enjoyed that time, but I would like to have stayed at Manchester United."
Beckham moved to Los Angeles Galaxy in 2007 and has now started his second loan spell at Milan in a bid to win a place in England's World Cup squad this year.
The midfielder said he felt envious of his former team-mates Ryan Giggs, Paul Scholes and Gary Neville, who came through the United youth ranks with Beckham and have stayed at the club.
"I am sure they will all try and kick me if they can because we were together for so many years and we were so successful together," Beckham said.
"Off the field we became best friends and that's why we became so successful at a club like Manchester United.
"But it's testament to themselves and the club and everything that surrounds them as individuals that they wouldn't be at a club like Manchester United if they weren't special people and special players."
EMOTIONAL OCCASION
Beckham said going back to Old Trafford would be an emotional occasion.
"Manchester United is so special to me and I have never been back as a player -- so to go back seven years after as an AC Milan player it doesn't get much more perfect than that and it is an experience I want to cherish. It is going to be a special and emotional night.
"But I'd like us to win, us being AC Milan. As a Manchester United fan I always want them to win in every game -- but not this one."
Beckham, England's most capped outfield player with 116 appearances, said that "scary" Fabio Capello had instilled a "good arrogance" in the England team since becoming coach.
"Players go onto the field confident, they believe they are going to win. He has brought a real seriousness, a professional side, which was needed -- but he scares you -- in a respect way."
He said there were similarities between Capello and Alex Ferguson, his manager at Manchester United.
"I was lucky enough to have played for the best football manager for many years," he said.
"Alex Ferguson brought me up, he was a father figure to me and I have got a huge amount of respect for Alex Ferguson and for Fabio Capello.
"They don't just manage teams they love football and that's why they are still in the game now."