'There are many tournaments like Super Series and All England and World Championship and I want to win them'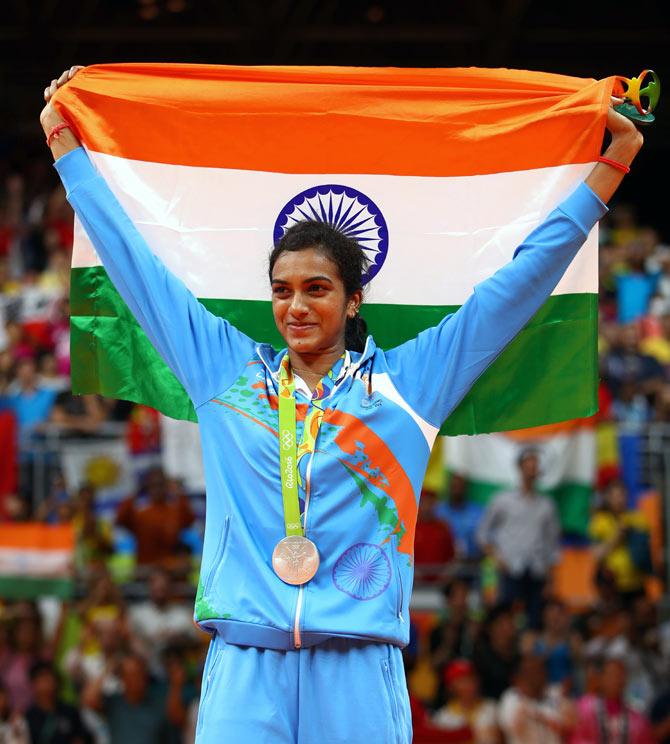 Rio Games silver medalist P V Sindhu says her performance at the Olympics has helped her to deal with failures and she realises now that she needs to work harder to win medals at big-ticket events like the World Championship and All England.
"Olympics has changed something inside me. At the Olympics I played against the seeded players and I realised that they will also feel bad losing against a lower ranked player like me, so sometimes people will get depressed but then they go back and work hard and so I also think in the same way and of course a lot has changed after Olympics," she said.
"It is hard to lose for everybody. When you lose, you keep thinking I could have done things differently but at that moment you can't do anything so it is important to let go," added the 21-year-old Hyderabad, who had created history by becoming the first Indian shuttler to win an Olympic silver medal in August.
Sindhu explained: "Life has changed a lot after the Games and now the responsibility is always high and everybody's eyes will be always on me, so I think from now onwards I'll have to work harder then what I have been doing.
"I think it is just the start and it is not over with the Olympic medal. There are many tournaments like Super Series and All England and World Championship and I want to win them."
Asked if there was more pressure on her now, Sindhu said: "It is not pressure, I just really enjoy my game. You know after the Olympics it is really different the way you think and I have got a lot of confidence. The last two tournaments I lost early but overall those were very good matches, I lost them by a few points.
"I have to take everything in a positive way, now that everybody will be cheering for me and everybody will be hoping. I should not think that I have to win every match and what others will think, that will create extra pressure, I just have to give best on court," said Sindhu, who had lost in the second round at Denmark and French Super Series.
The two-time bronze medalist at World Championship will next compete at the China Super Series starting next week and Sindhu said she can't take anybody lightly.
"My training has been very good. I am prepared well. Sorry I haven't seen the draw. It doesn't matter I guess since you have to play every good player at some stage. Nobody is going to be easy and everybody will fight till the last point so even it is a lower ranked player, you have to give your best," Sindhu said.
IMAGE: Silver medallist P V Sindhu of India celebrates during the medal ceremony after losing to Carolina Marin of Spain in the women's singles badminton final at the Rio Olympic Games.
Photograph: Clive Brunskill/Getty Images