Ace Indian shooter Abhinav Bindra said adjusting to the newly introduced rules will remain a priority for him in the 2013 season.
"I would use 2013 as more of a training year. With rules changing in my sport, I think there is a bit of accommodation that needs to be made," Bindra, who won the gold in the 10m air rifle event at Beijing in 2008, said.
The new rules adopted by the ISSF contain new finals formats where all the finalists start from zero, which means that the qualification score will not be carried forward.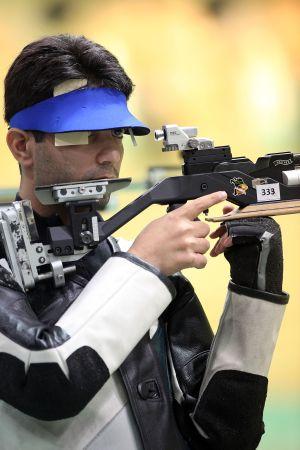 Also, decimal scoring for 10m Air Rifle event has been introduced to be more correct while deciding the finalists and the medallists.
"The change in rules is significant and I would primarily use the year to adjust to the new system," he said on the sidelines of an interactive session with children at Genesis Global School.
Bindra and trap shooter Manavjit Singh Sandhu shared their experiences of their journeys in the sport.
While hoping for an early resolution to the IOA-IOC stand-off, Bindra said he has not been following the controversy off late.
"I am actually quite disconnected with the situation at this moment but I hope a resolution is soon reached so that athletes are not affected," he said.
Former international trap shooter and President of Punjab Shooting Federation Gurbir Singh said the were okay with the national federation's decision to bar all state association officials, who sided with Abhay Singh Chautala's faction in the last IOA elections from national body polls on April 6.
"ISSF wrote to the NRAI that this is not acceptable and action should be taken. NRAI in their wisdom took a decision. I have to support it," he said.
Photograph: Graham Crouch/Getty Images