Churchill Brothers FC and Shillong Lajong FC on Monday shared a point each after playing a 2–2 draw in their 6th round play-off in I-League at the J N Stadium in Shillong on Monday.
Bineesh Balan opened the scoring for Churchill Brothers in the sixth minute to put the host under pressure early on while Hugo Machado's goal in the dying minute of the match left Lajong wanting for their first win at home.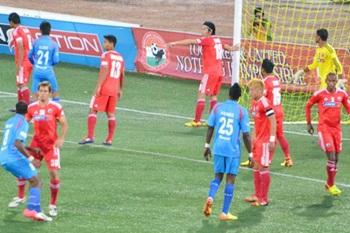 After Monday's match, Lajong is placed at number six in the table with nine points while Churchill earned three points from six matches and is placed at the relegation zone along with bottom most Rangdajied FC.
The home side scored two consecutive goals in the first half itself and played defensively thereafter.
Milan Singh made no mistake in converting a penalty awarded by Referee Subrata Barman in the 21st minute after he was overpowered by two Churchill's defenders inside the box.
Thirteen minutes later, Lajong's Brazilian striker Uilliams powerful right footer on the right flank left Churchill custodian dived in vain in the 34th minutes scoring his first goal of the season and match leader for Lajong.
Uilliams' contribution to the team and his effort during the match resulted in him being awarded the man of the match.
Returning after the lemon break, Churchill held on as they outplayed a defensive Lajong and made many unsuccessful attempts to break Lajong's defence who were found lacking in a number of times.
A 9,500 strong crowd cheered on and held their breath on many occasion as Churchill strikers made a near successful attempts.
Hugo Machado went into all attacking and his forward pass to Bineesh in the 76th minute went in vain as the slow ball went straight into Lajong custodian.
Ten minutes back, Hugo freed himself from three midfielders and his right footer from over 30 yards was brilliantly saved by Lajong keeper Vinay Singh denying an equaliser for the visitors.
Machado's attack was finally rewarded when Lajong's main defender Wailadmi was fouled inches away from the box on the left flank.
Taking advantage of his precision, Machado netted an equalizer through a beautiful right curve leaving keeper Vinay Singh wanting as he dived unsuccessfully.
Photograph: Courtesy: Shillong Lajong FC