Cash-strapped UnitedSC overcame all the off-field hardships as their committed players put up a well-knit effort for a 2-0 win over debutants Rangdajied United FC in their I-League opener, in Kolkata on Sunday.
Top scorer of the last two seasons Ranti Martins (65th) provided the lead with a header, while ONGC recruit Eric Brown (75th) struck a stunner after a goalless first-half, to give UnitedSC full three points to start the season.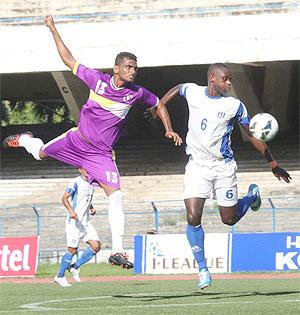 After their title sponsors disappeared in the Bengal financial scam, the Kolkata team failed to woo a new sponsor to put together the team.
But the players including high-profile Ranti and Dutch coach Eelco Schattorie remained faithful to their club as they had only 21 days of practice to start the season.
In the North-Eastern outfit, who qualified last season becoming the second team from Shillong to play the I-League, the purple brigade faced a stiff challenge as both the teams played out a goalless first-half.
It was a slow start to the match as both teams opted to play out patiently for a drab first-half.
A cautious UnitedSC relied on short passes without being too adventurous, even as the Shillong outfit looked to attack.
Minutes before the break, the RUFC wasted a sitter when an unmarked Edmar Figueira missed the target with a wayward header.
The home side looked more penetrating in the second-half resulting in goal in the 65th minute when the ace Nigerian headed the ball home from an Eric freekick.
Ten minutes later, Liberian Eric opened his account with a spectacular shot from the edge of the box.
Up 2-0, Eelco's team held the lead in the remaining 15 minutes for a winning start to their campaign.
Image: Action from the I-League match played between UnitedSC and Rangdajied United FC in Kolkata on Sunday.
Photograph: AIFF