Salgaocar Sports Club would like to continue their winning streak when they take on upbeat Churchill Brothers Sports Club in the I-League clash at Nehru Stadium in Fatorda on Friday.
New coach David Booth and technical director Peter Valles asserted that their team was on the right track. However, it won't be an easy task for the locals.
"We won our last match against Mumbai FC and that is a positive sign. The players too are responding well to the new coach," said Valles.
Booth took over the Salgaocar reins three days back after Karim Bencherifa resigned to join Mohun Bagan later this month.
During Salgaocar's win against Mumbai FC, Booth sat in the stands and it will for the first time that the new coach will be part of the club's technical bench.
Churchill has scored nine points from four matches and is currently placed second in the table, but Salgaocar definitely will give them a run for their money.
Churchill started with a loss against defending champions Dempo Sports Club, despite dominating for most part of the match. Subhash Bhowmick's men, though, fought back to win three consecutive matches.
However, the clash against locals might be the one that could prove to be the most difficult for them.
Mohun Bagan aim to sustain momentum against ONGC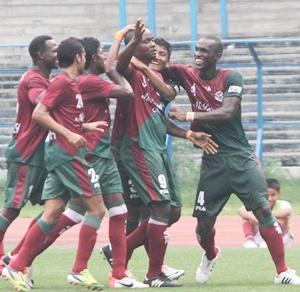 "We need to gain the momentum," comments ONGC Coach Subrata Bhattacharya.
"We cannot let slip the momentum," comments Mohun Bagan's present Coach Mridul Banerjee.
 "I'm happy I'm scoring goals for my team. That's what is expected of me. But I'm happier with the ground condition at the Jawaharlal Nehru Stadium. It's too good," Bagan's star striker Odafa Okolie, fresh from a hat-trick in his last outing, informs. Mridul, standing near, overheard, and couldn't be more pleased.
"We are not a one-man team," Mridul stressed. "Mohun Bagan is a team of 11 players. It's not about Odafa alone. Odafa is a great striker and he is doing his job just as the other 10 members on the field are doing theirs," he went on.
"Odafa has been ruling Indian football for almost a decade," opines ONGC Coach Subrata. "You give him freedom on the field and he will kill you. We will have to keep an eye on him. I don't believe in man marking. I may rater opt for a zonal marking for him," he opines.
If you stop Odafa, can you stop Bagan? This time, Subrata pauses. "Bagan are a Great team. Look at their history. Their name is enough to ring a bell," he evades the question.
Bagan are on 6 points from 4 matches while ONGC are on 1 pint from 4 matches. The kick-off at the Jawaharlal Nehru Stadium is at 2pm on Friday.
Photograph: AIFF Media