National coach Bob Houghton on Wednesday came down hard on influential state associations, saying they are slowing down the pace of Indian football development.
"Indian football is moving in the right direction, but the pace is too slow. It is sometimes frustrating," he said.
"The AIFF knows the direction but the problem is state associations, particularly that of Bengal (Indian Football Association). The state associations have their own agenda.
"They think their state leagues are more important than the I-League, they want to protect their interests only which is holding back Indian football," added the 60-year-old Englishman, who leaves for Portugal in the wee hours on Thursday along with 27 players for a 11-day training-cum-exposure tour.
The IFA had initially resisted holding the I-League and state league matches simultaneously so that top players in the national pool do not take part in the state leagues, only to agree to implement the AIFF Executive Committee decision from next season.
Houghton said the state associations will have to be brought into the fold if India wants to finally achieve the aim of playing in the 2018 World Cup.
"A Colaco or Dasmunshi cannot do everything. You have the constitution, which involves the state associations. Decisions to change Indian football structure are to be sanctioned by the Executive Committee, which have state representatives. If the state associations don't want change, nothing much can be done. Ultimately they have to be brought on board," Houghton said.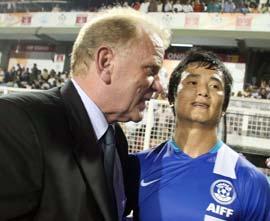 The widely travelled Englishman, who coached the national sides of Uzbekistan and China, besides top clubs in Saudi Arabia and North America, was happy that some crucial steps in the right direction have been taken.
"Some important steps have already been taken to restructure Indian football. We have implemented youth development programmes for under 14, 16 and 19 and we will keep these going on for a longer period. The main aim is to qualify for the 2018 World Cup.
"I-League is a big step forward and from the coming season it will be played in nine months which I think is the right way to do. I-League matches on weekends, the state league matches on weekdays, more international matches with proper spacing between them all these are being implemented to give Indian football a leap," he said.
Asked about his incessant criticism of Santosh Trophy with even AIFF not listening to him, Houghton replied, "I don't care whether the Santosh Trophy is scrapped or not. I can't dictate the AIFF to do this or that. It is fine if they want to continue Santosh Trophy but I-League players should not play there."
"In the international perspective, it (Santosh Trophy) is a silly and amateur competition. The top players should be always playing against each other in the I-League. We can have a reserve league and junior league. If India wants to stick to tradition forget about qualifying for the World Cup," Houghton said.
About winning the July 30-August 10 AFC Challenge in Hyderabad -- which would give India a direct entry to the 2011 AFC Asian Cup -- could be a high point of his coaching stint here, the former Fulham midfielder who took Swedish side Malmo FC to European Cup final in 1979 chose not to be hyper enthusiastic.
"Our main aim was about progression, to become a good team, a competitive team and go on to play the Olympics and then the World Cup after 10 years. A win will certainly give strength to the argument that we can become competitive at the Asian level. So it is an important competition," he said.
Captain Baichung Bhutia and senior players including Sunil Chhetri, Renedy Singh and Climax Lawrence, have pitched in for a second tenure for him, but Houghton would not open his cards much on this and said his decision will depend on two things.
"I want some success at first. We have AFC Challenge Cup coming up and then some international matches lining up. Let us see how things turn out to be. Moreover, I have to see whether the football establishment wants the changes necessary to take the game forward in India. It is too early to think about that," said the Englishman, whose three-year contract expires in May 2009.
Houghton also spoke highly of his charges and felt they were not getting much success at the international arena because of lack of height.
"All the players are dedicated and talented. But lack of height has been a problem. These days in any international match, six out of 10 goals are scored from set pieces and you need taller players in defence and attack. In the game against Lebanon in the World Cup qualifiers they had six players taller than our biggest -- Gouramangi. That was a big problem," he said.
He was also fulsome in praising Bhutia for his leadership qualities but felt India will have to find a replacement of the 'Sikkimese Sniper' sooner than later.
"Baichung is a fine player, a natural leader. He has the massive presence and is the central figure of the team, but we have to find his replacement in the team in a few years time," Houghton said.
Asked who from the current lot could fill into the boots of the inspirational captain, Houghton said, "(Sunil) Chhetri is already playing a lot of internationals; he is there. Then, there are some junior players like Sushil Singh, who is shaping up as a promising striker. But the problem for Sushil is that he has played just a few I-League games. He is 23 and might have played 20 (I-League) matches or so. A European at his age would have played 300 matches."
Houghton was unforgiving of European clubs coming to India for exhibition matches and for undertaking talent hunt programmes, calling their efforts as "disingenuous way of marketing".
"What the European clubs have been doing were marketing exercises and nothing else. India is the second fastest growing economy and in 10 years it will become a huge economy," Houghton said.
"They know it and want to market their football. I can't see any benefit for Indian football," said the former Fulham midfielder.
"I saw 5000 young kids taking part in the Under-15 Manchester United Premier Cup trials in Goa with the misguided belief that they have the chance to turn out for Manchester United. These are disingenuous marketing devices deployed by the English clubs.
"I once saw two kids crying on television after visiting Manchester and they have stopped playing after that. Their parents were also crying," he said.
He also described the May 27 Bayern Munich match against Mohun Bagan in Kolkata as nothing but "filling the pockets of rich European players".
"I think the match organisers must have spent around 1.5 million dollars though they must have recovered some later. But what was its benefit on Indian footballers. It was just filling up the pockets of Bayern players who are already rich with 2 million dollars a month salary. The money could have been spent in laying an artificial pitch in India for training of kids," he said.