Four-time world heavyweight boxing champion Evander Holyfield arrived in Hyderabad this morning to spread "love, knowledge and forgiveness, because knowledge and forgiveness bring power".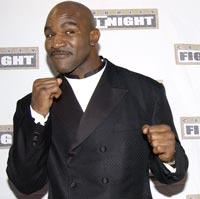 Holyfield told reporters before leaving for Mahbubnagar to visit the evangelist Paul's Charity City that it was always a treat to talk to young people, especially those who others think will not make it. "I also happen to be one of those children who were not supposed to make it, but I did make it," he said.

Holyfield, whose last bout with arch rival Mike Tyson in June 1997 had ended in the infamous incident in which Tyson chewed off part of his ear, giving Holyfield the title and $35 million in nine minutes, said he forgave Tyson immediately. "The whole world was upset over that incident as people felt that Mike Tyson should not have acted like that," he recalled.

After the incident some lawyers came to Holyfield and advised him to sue the company backing Tyson, assuring him that he would win a $250 million suit. "But I refused, telling them that I have responded to him by forgiving him."

Asked if he, an American, could similarly forgive Osama bin Laden, he responded positively. "If you do not forgive, the same thing will happen again," he said.

Dr A K Paul, an

American evangelist of Indian origin, who is hosting Holyfield, said his organisation had tried to dissuade President George W Bush from the path of war. "If some people have decided what they want to do, they will do it anyway," he argued.

On the state of affairs in boxing, Holyfield regretted that most boxers today are in the game for the love of money, not the love of sports. "If you have to be great in anything, love has to be there," he said.

Holyfield said it was his good nature, his ability to forgive, and his obedience to his mother that had played a major role in his success. He recalled that when he was wrongly disqualified by the referee in the 1984 Los Angeles Olympics he did not lose his cool or throw a tantrum. "It earned me the biggest boxing contract because TV networks liked how I responded," he said. "I made more money than all the guys who had won gold medals."

He said his mother had taught him to listen to his coach. "When in my childhood a kid beat me, I wanted to quit, but my Mama won't allow me to quit and asked me to go back. The kid beat me again and I wanted to quit again, but she won't allow me. Finally I beat the kid.

"Then she wanted me not to fight, but I said I want to. She explained to me that she did not allow me to quit earlier because if you quit when things don't go your way, you will quit for life," he recalled.

Paul's Charity City is a children's home spread over an area of 1,000 acres with accommodation for as many as 3,000 children.