Sledging is not limited to cricket alone and it rears its face, albeit not an ugly one, during hockey matches like those involving staunch rivals India and Pakistan.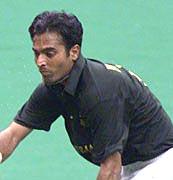 | | |
| --- | --- |
| | Also Read |
| | |
Pakistan's Sohail Abbas, arguably the world's best drag flicker, revealed this aspect of the game and said his team often resorted to sledging to unsettle the Indians.
"When we have the upper hand in the game, we try to unsettle the Indians by verbal sparring. Sledging is a part of modern hockey though not many people may know about it," Sohail said in Kuala Lumpur on Saturday.
With India and Pakistan matches invariably being high-voltage affairs, even a minor lapse in concentration can spell the difference between national pride and humiliation. Sohail says this is the reason why both teams try to play on on each other's minds.
"We know which players are volatile in the Indian team -- Gagan Ajit Singh, Prabhjot Singh and Jugraj Singh -- and target them for sledging. They also know that in our team Saqlain Mohammed, goalkeeper Ahmed Alam and Ali Raza are hot tempered and get worked up easily," the 24-year-old player said.
And when matters go out of hand, as it happened during India's 7-4 victory against Pakistan during last month's Champions Trophy, it is Sohail and Indian captain Dhanraj Pillay who try to cool things down.
"It is the job of the two of us [Dhanraj and Sohail] to separate the players and prevent them from coming to blows some times," said the ace defender, the highest goal scorer for Pakistan ever.
But Sohail was quick to point out that the cut-throat rivalry is limited to the hockey field and the players do not carry any grudge after the game.
"After the game we are friends. We exchange CDs and all. Koi kisi ke liye saree lata hai aur koi mithai [some bring sarees while others get sweets]. We go out to dinner together too. Unfortunately, people don't get to see this aspect of our lives."
Sohail blamed the attitude of Indian and Pakistani fans for creating so much hype around India-Pakistan matches.
"They make it an issue of national pride. For them it is like going to war. Back home the thinking is it does not matter even if you finish sixth but you must beat India. It could be the same in India... it is actually sad and such an attitude must go.
"Sports has to be taken in sporting spirit. Sometimes you win and sometimes you may lose. Our people cannot tolerate defeat at the hands of India. One must be mature enough to accept defeat. We also get to hear that Pakistan won the match so there was firing across the border and someone died. It really hurts. We are not playing to hear all this."
Sohail feels that one way to make India-Pakistan matches like any other regular outing is both teams meeting each other more often on the hockey ground.
"We should play each other more and more so that people don't make a big deal out of it all. This will also help them to accept defeats as we are also human and we cannot win every time we play against India," Sohail said.
With India and Pakistan meeting in the final of the Asia Cup tournament on Sunday, the excitement is again building up and Sohail said it is difficult to predict who will win the match.
"Hockey is a game of one day. On paper our team is better but whichever team plays well on the day will win. It is all about availing the chances. Both the teams have come to win the Asia Cup and it will be an exciting match," he said.
Sohail said the standard of hockey in both India and Pakistan has gone down because of the insistence of the authorities to stick to the old style of playing the game.
"European teams try to learn after every loss while we fret all the time and like to live in past glory instead of taking up to new techniques.
"We should have foreign coaches who are very professional and aware of the latest techniques," Sohail said, adding that Pakistan's present coach, Tahir Zaman, is doing a very good job.
"We were a little apprehensive and sceptical when Tahir Zaman took over as a coach. We thought Pakistan hockey will again go down in the rut. Players are sceptical about former players taking over as coaches because there is a negative thinking that he may promote his own players on regional or religious lines.
"Even if it may not be the case, one or two players in the squad of 16 are bound to feel that way. But, fortunately, Tahir is the best coach that Pakistan has had ever. His approach is very scientific and positive.
"What we need is a foreign coach who can assist Tahir," Sohail said while denying suggestion that such an arrangement could lead to clash of interests.
"I am confident there would be no clash and they will work in tandem because I know Tahir's way of working. He does not belong to the school of thought that if you make the players run for four hours irrespective of whether it is hot and sunny, he will play well in the one hour [of the match]," he added.
Sohail said India and Pakistan could become invincible if they change their age-old approach to the game and play with fresh ideas.
He said one of the reasons why Pakistan hockey is not at the top is because there is no proper management.
"They will send us to every tournament. Actually, they must plan it out and send the senior team in only the important outings.
"That way players are not overworked and give their best. One can look at Germany. They did not send their best line-up for Champions Trophy and went on to win the European Cup.
"That is why I did not want to play in Australia [in the twin tournament]. They were fielding two teams and were hosting the tournament to test their own players," he said.
Sohail's decision to opt out of the Australian tournament and play in the Dutch league instead landed him in trouble, with the Pakistan Hockey Federation threatening to take disciplinary action against him.
"I had faith in God. I knew I had defied the federation by going against their wishes and it could be detrimental to my career. But I remained positive and had a gut feeling that my point of view would be accepted. I was praying throughout for my team's victory in the Australian tour."
Sohail said the players are not very keen about playing in the Afro-Asian Games in Hyderabad next month because it is not exactly a competitive event.
"But it is okay. We will get to play there [in India] after a long time."
He said he does not think he has perfected the art of drag flick and still needs to work on it and his overall game.
"Though there is criticism that I am not good at tackling, I think I am okay. It is just that people made a big deal of it after I started hiding the mistakes of other players and owning up for their mistakes during team meetings," the affable player said.