Still reeling under the shock of the hosting rights of the Champions Trophy [ Images ] being revoked, Indian hockey faces the ignominy of also losing next year's Olympic [ Images ] qualifiers if a single national federation is not in place, the International Hockey Federation warned on Tuesday.
India [ Images ] lost the hosting rights of the Champions Trophy, which was initially allotted to the country, to New Zealand [ Images ] on Tuesday after failing to resolve the power struggle between Hockey India and the Indian Hockey Federation.
"It's impossible for India to get back the hosting rights of Champions Trophy. New Zealand will host it and it is our final decision," FIH president Leandro Negre said.
"India is important to us but FIH is committed towards having only one national federation in our member nations as per our constitution and IOC Charter," he said.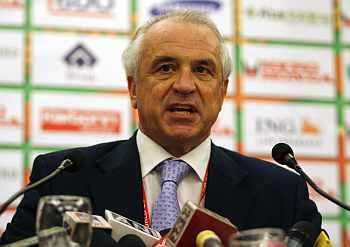 But FIH Chief Executive Officer Kelly Fairweather seemed optimistic about India hosting the London [ Images ] Olympic qualifiers next February, though he warned that it could also face the Champions Trophy's fate if the two warring factions -- Hockey India and IHF -- fail to break their impasse.
"Today we had a series of meetings with sports minister (Ajay Maken [ Images ]), ministry officials, Hockey India among others. All the meetings were positive but we made it clear that what FIH wants is a single body for hockey in the country," Fairweather said.
Asked about the Olympic qualifiers, he said, "It has still some time and we hope to find out a resolution before that."
Fairweather said discussions about allotting the Champions Trophy back to India was never on the agenda of Tuesday's meetings.
"For us it was a surprise to see that people were still hopeful of getting backing the Champions Trophy because we have already made it clear earlier this month that the tournament has been shifted out of India and we will name a replacement venue in a week's time," he said.
"A few days back New Zealand was selected as the alternate venue but we did not announce it because of the Rugby World Cup, which was to start there," the FIH CEO added.
Sports Minister Ajay Maken also said that once the Champions Trophy was allotted to New Zealand it was difficult for India to get it back.
He, however, said that he was miffed with the FIH for announcing the alternate venue just hours before Tuesday's meeting.
"The Champions Trophy has already been allotted to New Zealand and it is now a closed chapter. But I asked FIH president Leandro Negre why only four hours before the meeting they announced the name of the alternate venue. We never expected the Champions Trophy to come back but at least we expected them to take a decision after consultation with us.
"I expressed my displeasure and said it was not the right way. I told him it was the FIH who gave the tournament to India and we gladly accepted it. At least we were expecting FIH to come and discuss their reservations with us and, hopefully, we could have found a solution," Maken said.
Maken said the government has no intention to run any sport federation and it was just acting as a facilitator to help Hockey India and the IHF bury their differences and unite for the betterment of the national game.
"Our intention is clear, we want all warring factions to come together and unite and ensure that hockey regain its past glory in India. So, whatever we are doing is in the interest of India hockey", he said.
"The initiative has to come from the four parties -- Hockey India, IHF, FIH and Indian Olympic Association," he said.
The sports minister was also hopeful of a solution to the problem before the Olympic qualifiers.
"I told all my officials to talk to IOA and all other parties involved and find out a solution which is acceptable to all," Maken said.
"We still have some time before the qualifiers, we hope to reach a settlement much before that."
He also said that from now on the ministry will keep the IOA in the loop about any decision on the merger of Hockey India and the IHF.
The sports minister also said during the meeting he apprised Negre about hockey's potential in the Indian market.
Maken also said that he informed Negre about the government's plan of setting up a National Institute of Hockey at the Major Dhyan Chand National stadium in Delhi [ Images ], the cost of which would be Rs 10 crore.