American Bershawn Jackson won the world men's 400 metres hurdles title on Tuesday after defending champion Felix Sanchez failed to finish.
Sanchez, bidding for a third successive title, pulled up clutching his right hamstring after the first barrier in a race run on a soaking track in pouring rain.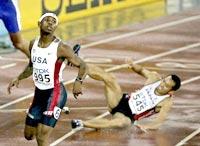 Jackson, 22, won in a surprisingly fast 47.30 seconds after overtaking compatriot James Carter in the final straight.
Japan's Dai Tamesue prevented an American sweep in third place ahead of U.S. champion Kerron Clement, who ran out of steam at the finish.
The trio of Americans and Tamesue braved the torrential rain to jog the customary lap of honour in front of an appreciative crowd in the Finnish capital.
"I went out and tried to keep my composure and keep strong," said Jackson, who was congratulated by former world champion Ed Moses after the race.
"Some of the greatest athletes were behind me so I was just wishing I could come round the turn at the same time as them and stay strong."
It was a first major medal for Jackson, who is easily recognisable on the track by his distinctive headband which he wears in memory of his uncle Richard who encouraged his career in athletics.
"I wear the headband in memory of him so I can just have him with me when I run," Jackson said. "I have his name written on it. It says 'Richard Jackson RIP'."
Olympic champion Sanchez has been struggling with a foot injury this season.
The 27-year-old from the Dominican Republic did not look comfortable in the previous round, qualifying as a fastest loser, and false-started in the final.
Also read:
- Anju George qualifies for Helsinki final
- Bekele retains world 10,000m title
- Inzikuru wins debut steeplechase
- Williams wins women's 100m