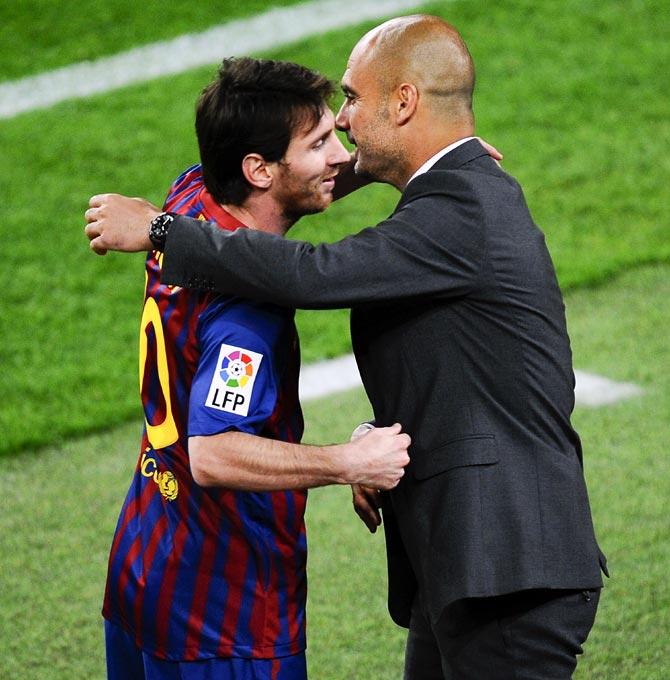 IMAGE: Lionel Messi, left, celebrates scoring a goal with coach Pep Guardiola during a match against Espanyol in Barcelona, on May 5, 2012. Photograph: David Ramos/Getty Images.
Despite Manchester City officials trying their best to sign Lionel Messi in recent years, manager Pep Guardiola has in contrast expressed his deep desire to see Argentine star striker end his illustrious career at Barcelona.
Guardiola, who had worked with Messi for over four years in Barcelona, believes that the Camp Nou club has become the striker's home.
"Messi will finish his career at Barcelona that is what I desire deeply. I want him to be there from the beginning to the end," Marca quoted Guardiola as saying.
Last week, reports came in that City were considering a colossal 200 million pounds move for Messi, and a contract of 500,000 pounds a week.
City are currently standing third in the Premier League, and the Spanish manager felt that every club, at the moment, holds equal opportunity to compete for a title challenge.
"There are more teams that can win the title but we knew that before coming here. The Premier League will be decided in the last 8-10 days. There are many candidates," Guardiola emphasised.
City will now take on Burnley FC on Saturday and will hope to seal three points to keep their Premier League title bid on course.