We need him as he is the best we have," says Indian badminton team coach Vinod Kumar, speaking about Pulella Gopichand.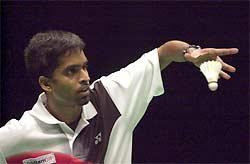 The player himself is keen to get back on the road after steadily recovering form recurring knee injuries. Four surgeries have already been carried out on his knees, but they have taken a toll on his rankings after the purple patch he hit after winning the 2001 All-England Championship.
After that triumph, he climbed as high as No. 4 in the world, but the injuries saw him plunge further, leading to his current rank of 119.
"I want to get back," declared Gopi in a telephonic chat with rediff.com from Singapore.
The ace Indian shuttler spoke to Nagraj Gollapudi about his injuries, his continual disappointment with Indian badminton standards and his future after retirement, whenever it comes.
Excerpts.
How's your physical fitness level now. Have you completely recovered from injury?
Yes, I am steadily getting back into the groove, although I won't say that I have hit peak levels. But I am almost there. I had to change my programme quite a bit due to the injury and have been involved in some serious work-outs -- in the swimming pool, circuits and weight training -- to gather enough strength to get back on the road.
Did you carry out an analysis of your game during this lay-off?
I have done that, but then there was nothing much I could do as the on-court work-outs were not being done. Fitness was the main concern, and as for the strokes, I knew I had them.
Are you ready for some reverses in the process?
I know it is going to be an uphill task and not going to be all that easy. However, it's something I have experienced before in my career, where I had to make a few comebacks; but I am very eager to make a comeback.
Is there any tangible time frame to get back into the big league?
If there are no more recurring injuries I think in the next three or four tournaments I should be getting some good results.
Which are the major events you plan to compete in the near future?
I start with the Singapore Open, then the Indonesian and Malaysian events before moving to the European stage, where I plan play in two or three events -- Dutch, Danish and German Opens, which I will decide later.
Don't you think, to do well in the above events, playing a few domestic competitions would have done some good?
Not really, as playing in the domestic conditions is not equivalent preparation.
But there are a few players who are competent enough.
Yes, but with no disrespect to the youngsters, it's just that the infrastructure is not to the global standards at many of the venues in India. When you are looking at playing in big events, it's just not the competition, but also the playing conditions that have to be taken into account. In these big events you are playing in huge venues with air-conditioned halls and also the shuttles which are pre-tested. These are things you don't find in India.
You are practicing in Singapore. Any particular reasons?
Here I get to practice with quality players who have different styles of game -- like current World No. 11 Ronald Susilo of Singapore and former World champion H Hendrawan of Indonesia -- who are anytime better than the Indian players. Also my sponsors, Sunrise, have arranged this trip with the Singapore badminton authorities.
You were unhappy with the IBF scoring pattern which has now been brought back to the original level?
It's better now and more sensible. Personally, I was never happy with the seven-point format which was forced upon us and we had to get adjusted to it, but now we're back to the 15-point format which is any day better.
How do you deal with the pressure after the All-England euphoria back home?
The pressure to perform was always there from within as I had my own expectations even prior to the All-England. Yes, a loss always hurts, and I know the expectations will always be high after that triumph, but injuries haven't helped me maintain those high standards of play.
Do you have plans for a coaching academy?
The plans are there, but not at this point of time. At the moment I am only worried about my badminton. The government of Andhra Pradesh is very keen to have an academy and surely I would be interested, but not now.