A few hours after she had appeared to finish a creditable fourth on her professional debut, 16-year-old Michelle Wie was sensationally disqualified from the Women's World Championship on Sunday.
Initially signing for a final round two-over 74 that left her ten shots behind winner Annika Sorenstam, Hawaiian Wie will forfeit her first earnings of $53,126 after falling foul of a drop violation in her third round on Saturday.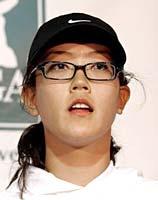 During Sunday's final round, a spectator told LPGA rules official Robert Smith that he thought Wie had dropped the ball nearer the hole when she had taken relief from an unplayable lie in a bush on the seventh hole a day earlier.
Minutes after she had completed her final round, Smith took Wie and her caddie Greg Johnston back to the spot at the 470-yard hole and deemed that she had indeed taken an incorrect drop.
"It was a little closer to the hole," he explained. "Because of that, she broke Rule 20-7 and the penalty is two shots.
"But because she had not declared the penalty before she signed the scorecard, then I'm sad to say that it is a disqualification.
"I did look at the incident on videotape, but it was inconclusive. It is just a pity that the spectator didn't report it yesterday and we could have sorted it out before she signed the card."
Wie was clearly upset at the situation, but put on a brave face when she addressed reporters.
"They (LPGA officials) said it was three inches ahead but it looked fine to me," she said, battling back tears.
"I am really sad but rules are rules and I respect them.
"Greg and I were talking when I took the drop and he said 'make sure you don't drop it nearer the hole' but I thought it looked fine to me.
"I'm very disappointed that my first (professional) event finished this way.
"It was a day later and really it was all guess work (trying to remember where the ball was dropped).
However, Smith said that the ball had been dropped on a patch of grass and it would have needed to be in the desert sand not to be closer to the hole.