Fiji's majestic Vijay Singh took over as world number one from playing partner Tiger Woods after winning the Deutsche Bank Championship by three strokes at the Tournament Players Club of Boston in Norton, Massachusetts on Monday.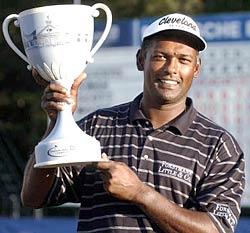 Singh and Woods finished with identical 69s after their showdown but the Fijian had done enough in the earlier rounds as he finished on 16-under-par to eclipse the deposed Woods and defending champion Adam Scott, who tied for second on 13-under.
The 41-year-old Singh, the hottest player of the last 14 months, clinched his sixth PGA Tour title this season, the biggest haul of his career, and his 10th since the start of last year.
"My focus today was really winning the golf tournament and I didn't get out of focus," said a jubilant Singh. "I was very patient, that was the key."
Asked how it felt to be the world number one, he added: "It's great and I can't wait to celebrate.
"I thought I was playing good enough to be number one for a while, but obviously the ranking, I kept telling you guys (reporters), I can't do anything about the ranking.
"Finally, it's turned in my favour. So, I don't know how long the ranking is going to favour me or anybody else. But it feels great right now and I'm really proud to achieve that."
However, it was a rollercoaster final round as the Fijian took a four-shot lead with a birdie on the first hole that moved him to 15-under-par before his third bogey at the 14th left him level with Woods at 13-under until he pulled away again.
Woods had monopolised the world rankings for a record 264 consecutive weeks since reclaiming the top spot with his one-shot victory in the 1999 U.S. PGA Championship at Medinah.
"I've had a good run and (being number two) isn't too bad, is it?" said Woods, trying to hide his disappointment.
HOT STREAK
After starting the final round with a three-shot lead it was unlikely Singh would be caught given his recent form.
He had won the last eight tournaments he had led after 54-holes in a streak dating back to the Houston Open in 2002 and most recently at last month's U.S. PGA Championship.
After Singh extended his lead to four shots over Woods at the first hole, a slip-up seemed even more improbable.
But after Woods and Singh bogeyed the par-five second, the American made three birdies and had only one more bogey through the first nine holes, while the Fijian made the turn on one-over-par 37 as his lead was whittled down to one shot.
After the pair became tied at 13-under-par, their fortunes went in opposite directions as Woods had an even-par finish in the last five holes while Singh made three birdies.
Scott was almost the forgotten man, even though he had the best round of the day with a six-under-par 65. He was one shot off the lead after four birdies in a row to start the back nine put him on 12-under.
Although he could not keep up that torrid pace, Scott did birdie the par-five final hole to take a share of second place.
John Rollins and Swede Daniel Chopra finished on 10-under-par to tie for fourth, with Chopra earning his PGA Tour card for 2005 with winnings of $700,000 this year.
Hank Kuehne and Japan's Shigeki Maruyama finished in a tie for sixth on nine-under-par. Jay Williamson was eighth on eight-under-par while Charles Howell III, Bill Haas and Brad Faxon shared ninth place at seven-under.