Vijay Kumar of Lucknow raced ahead into the lead after returning a five under 65 in the third round of the Crompton Greaves Open at the Bombay Presidency Golf Club Course, in Mumbai, on Friday.
Vijay's second successive 65 handed him a two shot lead at 11 under 199. Mandeo Singh Pathania and Rafick Ali Mollah are in joint second with the next best total score of nine under 201.
Vijay (69-65-65) ran riot on the front nine with birdies on the first four holes. Vijay sank a 15 feet putt on the second and then fired his approach shot (pitching-wedge) from 130 yards out on the third to within a foot and a half of the hole. An excellent lob-wedge shot earned him a birdie on the fourth. The 42-year-old veteran bogeyed the par-three eighth after missing a chip-putt from the bunker.
Vijay, who is currently third on the Rolex Rankings, then used the pitching-wedge to great effect to set up a birdie on the 12th. The bogey on the 14th was a minor hiccup for the Lucknow-based professional and he came back well to make a strong finish with an eagle on the par-five 18th, where he sank a 25 feet putt. Vijay's 65 was the day's best score.
Vijay, a winner on the Aircel PGTI in the 2010 season, said, "I made some incredible recoveries after hitting a couple of wayward tee shots today. My drive on the fourth landed in the adjoining fairway but I still managed to extract a birdie on that hole.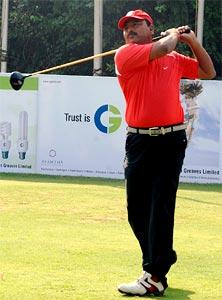 "I also hit some good approach shots with the pitching-wedge and sank a few monstrous putts. I scored well on the par 5s. The eagle putt from 25 feet on the par-five 18th was special as it gave me loads of confidence ahead of the final round.
"I did not fare too well on the par 3s today. I was level par on the six par 3s in round three whereas ideally I should have been at least two under. I'll look at improving on this front in the final round. I think a score of three under could do the job for me on the final day."
Mandeo Singh Pathania (67-66-68) of Greater Noida shot a score of two under 68 to throw his hat in the ring on Friday. He is currently two strokes behind the leader in tied second along with Kolkata's Rafick Ali Mollah (67-63-71) who carded a one over 71 in round three. Mandeo's round of 68 featured five birdies and three bogeys.
Delhi's Karanjit Singh Sandhu is in fourth place at eight under 202 while Mukesh Kumar, Sujjan Singh and Harendra Gupta are in joint fifth with matching totals of seven under 203. Mukesh fired a 66 on Friday.
Top 10 scores: Vijay Kumar 199 (69, 65, 65); Mandeo Singh Pathania 201 (67, 66, 68); Rafick Ali Mollah 201 (67, 63, 71); Karanjit Singh Sandhu 202 (63, 69, 70); Mukesh Kumar 203 (70, 67, 66), Sujjan Singh 203 (66, 69, 68); Harendra P Gupta 203 (67, 67, 69); Vinod Kumar 204 (67, 69, 68); Ashok Kumar 204 (66, 70, 68); Anura Rohana 205 (70, 69, 66); Pappan 208 (71, 67, 70).