Mandeo Singh Pathania shot a gallant five under 65 in round four of the Crompton Greaves Open in Mumbai, on Saturday to climb the victory podium for the first time in his professional career.
Pathania, who hails from the Jaypee Greens Golf Resort in Greater Noida, ended the week with a total score of 14 under 266, played at the Bombay Presidency Golf Club, on Saturday. Mukesh Kumar bagged the runner-up trophy, having finished three strokes behind the winner.
Pathania (67-66-68-65), who was overnight tied second, made a confident start in his final round with pars on the first eight holes. The 27-year-old knocked down his first birdie of the day on the ninth courtesy a 30 feet putt. Mandeo then picked up the pace with more birdies on the 11th and 12th thanks to some brilliant sand-wedge shots that stopped within eight feet of the pin.
Pathania emerged as the outright favourite on the back nine as overnight leader Vijay Kumar dropped a few strokes while Mukesh Kumar on the other hand failed to make a charge. Mandeo went on to birdie the 16th and then sank a 15 feet birdie putt to all but seal it on the 17th.
The strapping six-footer's bogey-free 65 ensured that he ended the tournament as the sole professional to have shot under par scores in all four rounds. Pathania took home the winner's cheque worth Rs. 12,93,200 and thus climbed from 23rd position to sixth place on the Rolex Rankings.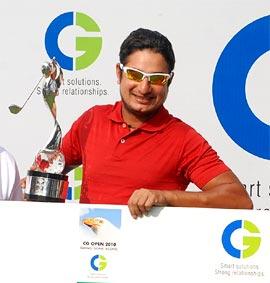 "I just stuck to the basics today and did not look at the leaderboard till I was on the 18th tee. The important thing was that I did not make any bogeys today. I knew I could lose the momentum if I dropped a bogey at any stage. I made sure that didn't happen. I made a crucial 30 feet birdie putt on the ninth and then put my foot on the accelerator on the back nine," said Pathania, who has two other top-10 finishes to his credit this year.
He went on to add, "I've come close to winning on a few occasions in the past and let it slip. I'm glad I've finally crossed the line. I dedicate this win to my father Col. Ravi Pathania who has helped me a lot with my game and encouraged me all along." Mukesh Kumar (70-67-66-66) of Mhow carded a second successive 66 to finish second at 11 under 269.
Mukesh began well with three birdies on the front nine but could not seize the initiative from there on as he made three birdies against two bogeys after the turn. Round three leader Vijay Kumar (69-65-65-73) of Lucknow secured third place after returning a one over 73 on day four. His total read eight under 272. Ashok Kumar, Vinod Kumar and Harendra Gupta were joint fourth with matching totals of six under 274.
Ashok Kumar continues to be the leader on the Rolex Rankings with earnings of Rs. 52,31,625 for the season. He has now become the first professional to earn more than Rs. 50 lakh in a single season on the Aircel PGTI.
Final Top 10 scores: Mandeo Singh Pathania 266 (67, 66, 68, 65); Mukesh Kumar 269 (70, 67, 66, 66); Vijay Kumar 272 (69, 65, 65, 65); Vinod Kumar 274 (67, 69, 68, 70); Ashok Kumar 274 (66, 70, 68, 70); Harendra P Gupta 274 (67, 67, 69, 71); Shamim Khan 275 (69, 69, 72, 65); Anura Rohana 276 (70, 69, 66, 71); Sujjan Singh 276 (66, 69, 68, 73); Rafick Ali Mollah 276 (67, 63, 71, 75); Karanjit Singh Sandhu 278 (63, 69, 70, 76).