Former World No. 1 Lorena Ochoa is coming out of retirement to play in this week's Ladies French Open as a favour to her sponsors.
The Mexican won two major championships and claimed 27 tour victories before retiring from golf in April 2010 to focus on her family and charity work.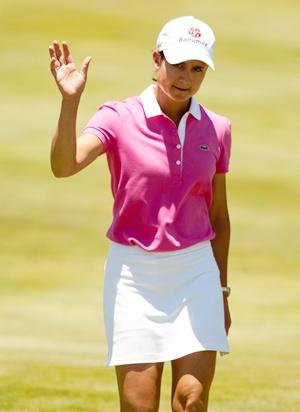 The French Open is sponsored by Lacoste who also provide financial backing to the 30-year-old Ochoa.
"They asked me to come and play the tournament," she said in a news release on Tuesday. "They actually asked me last year and I couldn't because I was pregnant.
"I said ... 'I prefer to wait until next year' and here I am and I'm very happy to support the tournament."
The Mexican is also scheduled to play in her own Lorena Ochoa Invitational event in Guadalajara in November but has no plans to make a full-time return to professional golf.
"I'm not going to put pressure on myself this week because I don't practice anymore," she said.
"My life is very different now so I'll be relaxed and try to smile out there. If I make a mistake I will be easy on myself."
Ochoa, however, said she would return to defend the French Open title if she achieved an unlikely victory at the Chantaco Golf Club in Saint-Jean-de-Luz, Aquitaine.
The Ladies European Tour event starts on Thursday.
Photograph: Darren Carroll/Getty Images