The use of goal-line technology has opened a Pandora's box in football and encouraged demands for other forms of electronic aids to be used, UEFA president Michel Platini said on Friday.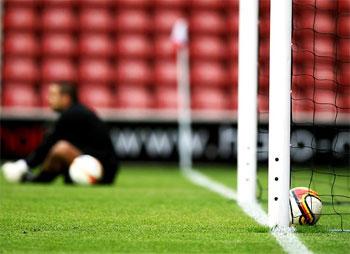 "I told you from the start I was against this technology, because then we will have offside technology, penalty technology, throw-in technology, everything," he told a news conference.
"The Pandora's box has been opened, that's what I said would happen at the beginning and now we are getting the confirmation."
The Frenchman has fought almost a lone battle against the use of goal-line technology, which was approved by football's rule-making body last year.
It was used at the World Club Cup last December, the Confederations Cup in June and is now in use in the Champions League.
UEFA have developed an alternative system of having two extra linesmen, one on each goal line, which is used in European club competitions and the European championship.
Platini said that experience in other sports had shown that video technology was not 100 percent reliable.
"Rugby is using technology with forward passes and French television now want to start the matches earlier," he said.
"You have to review the action and the referees are no longer taking decisions because you have to run to a monitor and the referees are waiting for technology to decide.
"I was against this all along, here it is and the debate has now kicked off and we will have a debate for the next couple of years on our hands."