Kenya's Geoffrey Mutai won the Boston Marathon on Monday in an unofficial time of two hours three minutes and two seconds, the fastest time ever recorded over the distance.
Mutai slashed almost a minute off the existing world record of 2:03.59, set by Ethiopia's Haile Gebrselassie at Berlin in 2008, but his time was not ratified as a new record because he was aided by a tailwind on a downhill course.
"Boston marathon performances cannot be ratified as world records as the course does not satisfy two of the criteria for world records," USA Track and Field told Reuters.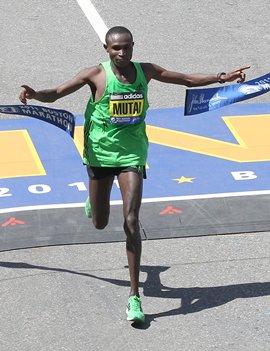 Mutai's countryman Moses Mosop also smashed Gebrselassie's mark to finish second in 2:03.06 after the pair ran stride for stride before a final sprint down Boston's Boylston Street.
Ryan Hall of the United States finished third. His time of 2:04:58 was the fastest ever time by an American in the 115th running of the race.
Caroline Kilel ensured a Kenyan double when she won the women's race in a 2:22.36, outkicking U.S. runner Desiree Davila in the final few blocks. Kenyan Sharon Cherop was third.
Mutai and Kilel eached earned $150,000 for their wins while the 29-year-old Mutai, whose previous biggest win was the 2008 Monaco Marathon, would pocket a bonus for breaking the course record, which happened on the same day Gebrselassie celebrated his 38th birthday.
Factbox on Geoffrey Mutai
* Born Oct. 7, 1981
* Previous personal best time was two hours four minutes and 55 seconds in last year's Rotterdam Marathon where he finished second.
* Was the second fastest marathoner in the world in 2010, his sub two hours and five minutes run in Rotterdam solidifying his place as one of the fastest marathoners of all time.
* Also came second in the 2010 Berlin Marathon, clocking 2:05:10.
* Is a twice winner of the Eindhoven Marathon, in 2008 and 2009.
* Made his marathon debut in 2007.
* Mutai is the oldest of nine children and was born in the Koibatek District in the Rift Valley Province.
Photograph: Getty Images