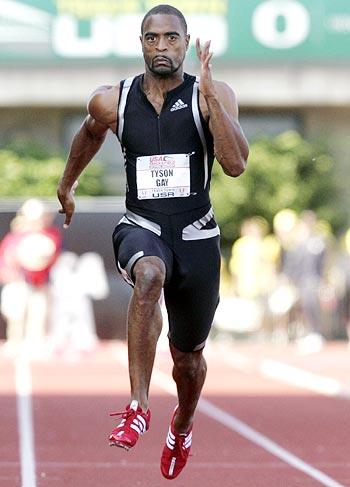 If Usain Bolt plans to break his 100 metres world record at this weekend's world championships, he is going to have company, confident American rival Tyson Gay said in Berlin on Thursday.
"If that's what it takes to win, that's what I am going to try to do," the double sprint world champion told a news conference.
"If he goes 9.6, I'm going to try to go 9.6," Gay said when asked about Bolt's Beijing world record of 9.69 seconds falling during the August 15-23 championships in Berlin.
"The world record, that's what I have in mind."
Pronouncing himself fit despite a nagging groin injury, the American said Sunday's 100 metres final may just prove who is the greatest sprinter of all-time.
"I believe so," said Gay. "Maybe that's a little much, but at the same time, he [Bolt] has already showed the world what he can do, and he can do a lot more.
"For me, I have not be able to show all of my talent yet, but I have a lot left in the tank."
Bolt's stunning Beijing Olympics in which he broke world records in the 100, 200 and 4x100 metres relay may have grabbed the headlines, but they never caused Gay to question his ability to compete with the Jamaican.
"There was no doubt in mind I could compete with this guy," said Gay, the reigning world champion at 100 and 200 metres.
Co-coach Jon Drummond told Gay as much a week after Bolt's whirlwind Olympic show last year.
"He explained to me I had the talent and I had put in the work to be able to able to run just as fast as him," Gay said. "It's all in timing."
STAY RELAXED
The key to beating Bolt, Gay said, will be the first 30 metres and the final 20.
"I have to be with him at 30 metres," Gay said of the long-striding Bolt who picks up momentum as the race progresses.
"And the last 20 metres are very important," he added, noting the need to stay relaxed over what could be the most tense portion of the race as the lanky Bolt charges home.
The American, who will face Bolt in both the 100 and 200, has produced the fastest times of the year in both distances, running 9.77 and 19.58 seconds.
Bolt, who has had to battle rain, wind and cold in his races, is not far behind at 9.79 and 19.59 seconds.
Those performances and his Beijing show make the Jamaican the clear favourite to supplant Gay in both sprints, a factor even Gay recognises.
"I'm going after what he has," said Gay.