Gulmarg, which is emerging as a global winter tourism destination will play host to National Winter Games next month to bolster its reckoning at the international level.
The state government will now project the north Kashmir ski-resort of Gulmarg as a venue for the 2010 Commonwealth Winter Games.
About 500 participants from 18 teams from 10 states, besides Jammu and Kashmir, will be participating in the National Winter Games likely to promote and popularise the Meadow of Flowers, currently under a five feet thick carpet of snow, as a winter destination in a big way.
Chief Minister Ghulam Nabi Azad who is personally monitoring arrangements for the important sports event being held from February 18 to 22, reviewed preparations for the games in Jammu on Tuesday.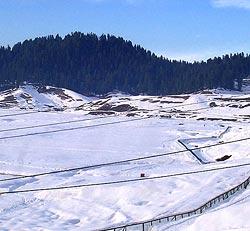 Azad said that the state will stake the claim for holding the Commonwealth Winter Games at Gulmarg in 2010.
"I will take up the matter with Suresh Kalmadi, President Indian Olympic Association, when the latter will arrive here in connection with the ensuing mega sports event next month."
The Chief Minister highlighted the need for putting in place all facilities for the participants to make the National Winter Games a "memorable one and a highly successful sports event".
He said participation of sportspersons from across the country in large numbers would focus Gulmarg as an important winter destination.
He emphasised the need to publicise the event on a major scale and suggested to rope in media and sports writers to project the national level winter sports activity.
He said he will also explore, through the ministry of external affairs, the possibility of inviting skiers from embassies and high commissions in New Delhi to take part in the event.
The torch of the 5th National Winter Games will be taken from Delhi and travel through Auli in Uttar Pradesh and Srinagar before reaching Gulmarg.
"A prominent sports personality of the country is expected to flag off the torch," an official spokesman said.
The teams participating in the event include Jammu & Kashmir, Himachal Pradesh, Uttar Pradesh, Uttarakhand, New Delhi, Rajasthan, Maharashtra, Karnataka, Tamil Nadu, Madhya Pradesh, Punjab, Border Security Force, Indian Navy, Army Sports Control Board, Indian Institute of Skiing and Mountaineering, Indo Tibetan Border Police, GMVN and WHVN (Manali).
The events to be held during the five-day sports carnival include slalom, giant slalom and snowboard in alpine skiing, freestyle (men and women) in cross country and figure skating and speed skating (men and women) and ice hockey for men in skating rink category.
The inaugural function will include march past by participating teams and display of martial arts.
Photograph: Harish Kotian