Sobbing in triumph, Austrian skier Michaela Dorfmeister knelt to kiss the Olympic Alpine snow in Turin on Wednesday, while in ice hockey the Italian hosts bit the ice against the might of Canada.
Australia's Dale Begg-Smith collected his country's first medal of the Games and third gold in Winter Olympics history with victory in the moguls and the Austrian Linger brothers did not hang around on their way to luge victory.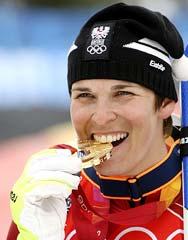 China took their first gold of the Games when hot favourite Wang Meng won the women's short track skating 500 metres.
While Italy's ice-hockey team was licking its wounds, the nation's speedskaters shattered Chad Hedrick's dream of winning five gold medals when they beat his US pursuit team to move into the semi-finals.
Inspired by a crowd of some 2,000, Enrico Fabris, who won a surprise bronze medal in the 5,000 metres on Saturday, produced another glittering performance to lead Italy to victory.
On the slopes, Dorfmeister let her emotion loose and dissolved into tears after a long-awaited victory in the women's downhill.
Just a month before retirement, the 32-year-old swept all aside to win the one prize that had long eluded her at the Winter Games.
"This was my last dream," she said. "Now I will be able to retire with a perfect feeling and I can't wait to start a new life."
As Dorfmeister revelled in her glory, Italy's ice hockey team were licking their wounds after an expected 7-2 defeat by titleholders Canada.
The jet-lagged Canadians, who had arrived in Turin just 24 hours earlier, got the contest off to a sluggish start against an energetic and motivated Team Italy, which had spent almost a year preparing for the contest.
UNTHINKABLE UPSET
After holding Canada to a single goal in the first period, Italy sparked dreams of an unthinkable upset when Bob Nardella levelled the score at 1-1, bringing the near-capacity crowd to their feet.
The celebrations, however, were short-lived.
"We definitely thought we had a chance," said Italian defenseman Carter Trevisani. "When it was 1-1, I thought maybe we could hold them off.
"We knew we couldn't let them get up on us, if they get two or three goals ahead there's no coming back."
Begg-Smith produced a magical run in the freestyle skiing moguls to win Australia's first medal of the Games.
"It's awesome. I obviously didn't see the other runs so I didn't know if it was a gold medal run but it was definitely one of my best," the Canadian-born Australian told reporters.
Andreas and Wolfgang Linger erased painful memories of the treacherous Cesana luge track by winning the gold medal in the Olympic doubles competition.
The victory was particularly sweet for the younger Linger, Wolfgang, who fractured his left ankle and fibula in a crash here last year in a training run for an Olympic warm-up event that was eventually cancelled.
There were three crashes on the treacherous track on Wednesday and six before that, either in training or competition. Earlier on Wednesday, however, organisers had insisted the track was challenging but "not particularly" risky.
In the Nordic combined, the teams were left on ice after their event was postponed due to high winds.
It has been rescheduled for Thursday. Results from Wednesday's first round of ski jumping, completed before the wind picked up, will stand meaning world champions Norway are ruled out.
Norway had been unable to make Wednesday's start after three members of their four-man team fell ill.
SPEED EVENTS
Twice a world champion in the speed events, overall World Cup champion in 2002 and four times a winner of season-long titles in the individual cups, Dorfmeister had never quite made the grade at Olympics.
On Wednesday she put that right.
Her time of one minute 56.49 seconds down the Fraiteve piste beat Swiss Martina Schild into silver with overall World Cup champion Anja Paerson of Sweden winning bronze.
"I have been so nervous for the last two days. I couldn't sleep," she said.
"My legs were so heavy at the start of the race, then I said to myself: 'hey, let's go for it'."
World champion Janica Kostelic of Croatia did not start the downhill because of a high pulse rate and defending champion Carole Montillet-Carles, of France, was never in contention.
That Montillet-Carles competed at all after a heavy crash in training on Monday was a triumph.
Hardly recognisable with her face bruised and swollen, the Frenchwoman finished 28th, 4.54 seconds behind Dorfmeister.
"It was my decision and it was the right one. I could not face watching the race from my bedroom or from the bottom," she said.
"I had prepared for this day for the last 10 months and it was my one and only goal of the season. I could not give up so close to my goal."
Montillet-Carles is optimistic she can recover in time for Sunday's super-G and despite her disappointment, has not lost her sense of humour.
To a passing fan who shouted: "Carole, I love you!", she replied: "Have you seen my face?
"I'm lucky to be married or I would never find a husband with a face like this."