Ace shooter Gagan Narang's academy, 'Gun For Glory', will organise a national-level shooting championship at the Shiv Chhatrapati Sports Complex in Mahalunge-Balewadi from August 3 to 9.
The championship will be hosted in association with the National Rifle Association of India (NRAI), and offers prize-money of Rs 35 lakh.
"Through the academy we are aiming to give our Indian shooters a platform, where they can compete with other talented shooters. The competition is recognised by the NRAI and the winners' scores will be considered for national championships and selection trials," informed Narang.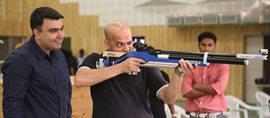 "This will be the first-of-its-kind championship for Indian shooters, where a win will not only help them improve their scores, but also allow them to take home some really good prizes from our elite sponsors. There are prizes worth Rs 35 lakh at stake," he added.
NRAI secretary Rajiv Bhatia said the event will benefit the sport in the long run.
"We are happy that 'Gun For Glory' is organising the championship, which will benefit shooting in the long run. We will provide the required support to the academy," said Bhatia.
While directors of the academy, Narang and Pawan Singh, briefed the media about the championship, former captain of the Indian hockey team and CEO of Olympic Gold Quest, Viren Rasquinha launched the official website of the academy www.gunforglory.in on Thursday.
Around 3,000 marksmen and women from all over the country are expected to participate in the competition.
The event will be held in two categories – National Rule (NR) and International Shooting Sports Federation (ISSF) rule.
Shooters scoring the required points in the NR category, will qualify for national championship, while those contesting in the ISSF category, will be eligible to participate in the selection trials for International championship and national squad.
Apart from the championship for registered shooters, there will also be a competition for the spectators, called "Talent Hunt" from August 4-8 to spot and encourage raw talent in the country.
German gun manufacturer -- Walther – will provide rifles to the winners. Besides, there will be other prizes also. All in all, there would be 46 events offering gold, silver and bronze medals and special prizes.