At 32, Peter Gade is obviously not young, but the Dane vows to defy his age and go full throttle against defending champion Lin Dan of China in a mouth-watering quarterfinal match of the World Badminton Championship in Hyderabad on Friday.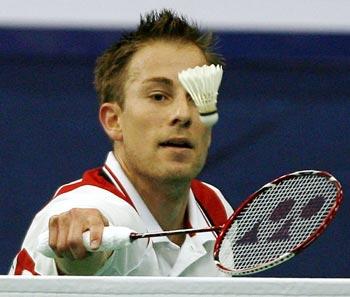 Aware that it won't be a stroll in the park against Dan, world number three Gade is eyeing to capitalise on the pressure that will be on his young opponent.
"He is one of the best players and he is young. I feel all the pressure would be on him as he surely wouldn't like to lose against an old guy like me. So I can play freely," Gade told reporters.
"I know he is beatable and I will give whatever I have tomorrow. I will fight for every point and make it extremely difficult for him. I will hold on to every bit of chance that I get against him," he added.
The quarterfinal loss against the same Chinese opponent still rankles Gade and tomorrow's encounter would provide him the golden opportunity to settle scores.
"He had beaten me in a close match in Beijing, but it was different time and I had injuries, I had a broken rib. After that we have seen each other play but I will take confidence from the fact that I have beaten him in the past. I have beaten him a couple of years ago," Gade said.
Gade, the 1999 All England Open Badminton Champion, comprehensively beat 10th seed Yan Kit Chan of Hong Kong 21-11, 21-12 in just 36 minutes and he wants to take heart from the victory before the all important encounter.
"This is what I wanted before the quarters. It has been really nice. The shuttle was slow today and he made some mistakes but I kept the speed high," he said. 
Meanwhile, defending champion Dan refused to take his veteran opponent lightly. 
"Peter (Gade) has improved since the (Beijing) Olympic and I won't take him lightly. I have to be very prepared for the match as he is the best in Europe," Dan said.