The extension of the French Open's Roland Garros stadium, which has been championed by Paris mayor Bertrand Delanoe, was stopped by an administrative tribunal on Friday.
The project was approved by the city's governing body two years ago but the tribunal ruled that the local residents' complaints were not thoroughly considered and the fee payable by the French tennis federation (FFT) was set too low.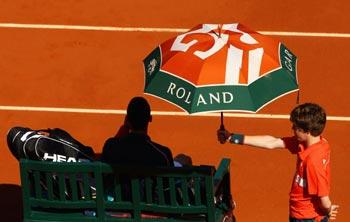 The extension, which the FFT said would cost 273 million euros ($356.90 million), has been fought by residents' associations because the building work would encroach on the nearby Auteuil botanical greenhouse complex.
The French Open, the second grand slam tournament of the season which welcomes over 400,000 spectators in late May and early June, has been in need of renovation for years.
The FFT said that after an extension the French Open would be equipped with a centre court with a retractable roof.
The federation also guaranteed "increased levels of comfort and more room for all involved (players and spectators) and a stadium with the latest in terms of infrastructure".
The Paris mayor's office and the FFT have yet to comment.
Photograph: Clive Brunskill/Getty Images