Rafael Nadal displayed the athleticism and self-belief that earned him seven French Open titles to tame Novak Djokovic 6-4, 3-6, 6-1, 6-7(3), 9-7 in a pulsating 4-1/2 hour Roland Garros semi-final on Friday.
In a match of high drama featuring a point penalty, a near tumble over the net, trick-shot mishaps, warnings for time wasting and angry outbursts, it was the sinew-stretching rallies that made the difference.
Nadal withstood world No 1 Djokovic's tendon-twisting baseline onslaught to extend his run at the claycourt major to a jaw-dropping 58-1 and reached an unprecedented eighth Paris final against fellow-Spaniard David Ferrer, who beat home hope Jo-Wilfried Tsonga 6-1, 7-6(3), 6-2 in the other semi-final.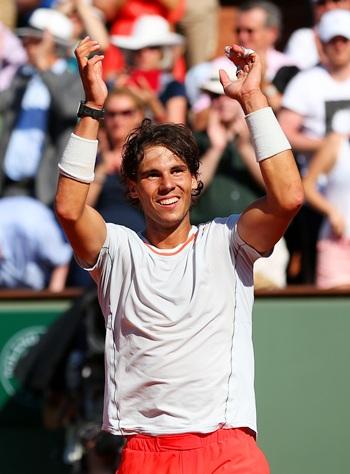 "This is very special for me," a hugely relieved Nadal said in French in a courtside interview as sweat dripped off his face.
"Novak is a fighter... and he will win here one day. But I was ready for the fight."
In the 35th meeting between the players, Djokovic had threatened to give Nadal a rough ride as he won four games on the trot to take the second set but the Serb was quickly given a reality check when he claimed only 12 points in a hopelessly one-sided third set.
Nadal then stood two points from the final in the fourth set when he inexplicably let Djokovic off the hook by dropping serve at 6-5 up, the Serb hitting an audacious forehand winner to break before saluting his camp with a raised fist.
The Spaniard's winners suddenly dried up and his shoulders started sagging as Djokovic blew a hole through his master game-plan by blitzing through the fourth set tiebreak 7-3.
Djokovic thumped his chest with a clenched fist and then threatened to thump Nadal in the fifth as he streaked into a 4-2 lead.
CLAYCOURT SUPREMO
But Roland Garros is Nadal's domain and over the years grand slam champions in the calibre of Roger Federer, Andy Murray, Lleyton Hewitt, Juan Martin del Potro and Carlos Moya have all tried - and failed - to conquer the claycourt supremo.
Djokovic, six times a major winner, turned out to be no different.
Serving at 4-3 up and 40-40, Djokovic was first left fuming when he was warned by umpire Pascal Maria for time wasting.
He reacted by launching into his serve and emphatically smashed the ball away for a point that should have moved him to advantage. But he bizarrely almost tipped over the net and the umpire awarded the point to Nadal, leaving Djokovic to gesticulate wildly and argue loudly.
An opponent hot and bothered is exactly what Nadal wanted and he needed no second invitation to pounce and break.
If that was bad for Djokovic, two games later Nadal illustrated the different mindset of the players when he hit a between-the-leg trick shot while running towards the baseline and the Serbian promptly smashed the ball into the net.
The crowd howled, Nadal grinned sheepishly and Djokovic threw daggers.
"You are not even looking at the court," Djokovic raged at the umpire during the changeover. "You are not taking any decisions."
Ten minutes later, Nadal took the decision out of everyone's hands when the top seed hit a forehand long on match point, leaving the Spaniard to leap into the air in celebration.
"I really fought a lot," the Spaniard, who did not let a point penalty in the third set throw him off course, said after carving out a 20th win over his rival.
"In 2012 in Australia, it was a similar match but Novak won. Today it was me. That's what makes the sport very big."
Image: Rafael Nadal celebrates after beating Novak Djokovic in the semi-finals.
Photograph: Clive Brunskill/Getty Images