Looking little older than the ball boys, David Goffin won the hearts of the fans and the admiration of his idol Roger Federer when he lost to the 16-times grand slam champion in four sets in the fourth round of the French Open on Sunday.
Goffin, a fresh-faced and slightly-built 21-year-old, was not only the youngest man left in the draw but also the first lucky loser from qualifying to reach the fourth round of a grand slam tournament in 17 years.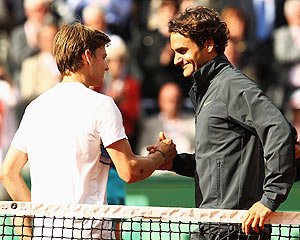 "I think he can go very far," Federer said after beating the Belgian 5-7, 7-5, 6-2, 6-4. "I thought he played really well. Great impression."
Reflecting on Goffin's performance, Federer was transported back to his own grand slam debut, 13 years ago at Roland Garros.
"For me it was (like) the Pat Rafter match here back in 1999 when I got the wildcard into the main draw and I won the first set 7-5," he said.
"When (Goffin) won the first set 7-5, it was like, okay, well, now I'm supposed to win in four sets, no problem. Like Pat Rafter back then. (Goffin) pushed much harder and further than I did. I lost, you know, without any chance in the second, third, and fourth but he really had a big chance."
The praise will mean much to Goffin, who covered his bedroom walls with posters of Federer as a youngster.
"It's definitely the greatest moment in my life," Goffin said. "I had never played in such a big stadium against the best player I've ever had as an opponent.
"This is a moment that I will not forget and I hope I will have many more in my life."
The fans will certainly hope so too after Goffin charmed them with his game and his manners, bowing graciously to three sides of the court after winning one point in particularly athletic style.
"All the stadium was on fire, so that's why I did it," said Goffin. "It was a great feeling."
Photograph: Matthew Stockman/Getty Images