Four protesters, one letting off a flare, briefly interrupted the French Open tennis final between Rafa Nadal and fellow Spaniard David Ferrer on Sunday.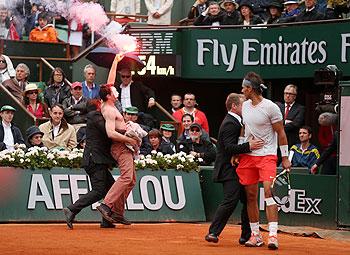 Two bare-chested protesters stood up in one of the front rows behind the players' benches on court Philippe Chatrier at the end of the sixth game of the second set and one let off a flare.
The protester with the flare, wearing a white mask, jumped over the tramline, ran on the court close to where Nadal was standing and was brought down by a member of security staff before being dragged out with his accomplice.
Earlier, two other protesters had been pulled out of the stands by security.
Photograph: Matthew Stockman/Getty Images