Hamilton will need to sparkle a lot brighter than that to start winning back his shine, says Raja Sen
What a difference a win makes.
Three weekends ago, in a shopping mall in Delhi's Vasant Kunj, Lewis Hamilton stood around and posed for pictures at a screening for Asif Kapadia's scintillating (and arguably partisan) documentary Senna: Beyond The Speed Of Sound. It is as must- watch as can be, and Hamilton, one of its most outspoken fans, was game to promote it. So much so that when some enthused locals asked him to sign on the Senna DVDs, he did so with a flourish.
Now that's not on, young Ham. It's all well and good to idolise the immortal Ayrton, that fieriest of racecar drivers, and to declare him your greatest influence, but it is in tremendously bad taste to scrawl your John Hancock all over his likeness. When he died a legend, you were nine years old. It is akin to declaring yourself Senna-like, when the man himself, God bless his soul, is in no position to object.
Why Lewis is looking at a deceased great for endorsement is presumably because the living ones haven't been as impressed with him as they used to. It's been an embarrassingly bad season from Hamilton, consistently whipped by teammate Jenson Button and frequently finding himself in breach of FIA regulation.
He's caused so many crashes, with such spectacular recklessness, that he finds himself compared to the brilliant buffoon Juan Pablo Montoya. He's lashed out at the stewards, once going as far as to say that he's being punished too much simply for being black. He's broken up with a Pussycat Doll, (and blamed his bad form on the split) and picked the man who made Pop Idol to be his manager. It has been a cringeworthy year.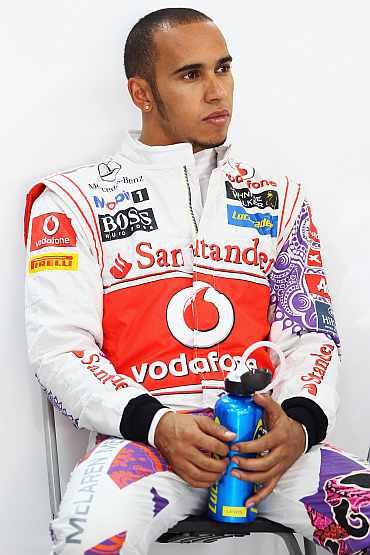 It hurts more to see Hamilton flounder simply because his talent is enormous, and special. He is a scorchingly fast driver who defends fairly and attacks audaciously, his boldness matched only by the power of his parry. Often superheroic during qualifying, he's devilishly committed throughout the race, setbacks serving only as a scarlet flag spurring on an untamed bull. His first year in F1 he beat the two-time world champion he had for a teammate, and in year two he won the title -- becoming the youngest man in the history of the sport to do so.
That was circa 2008. Now, for the first time in his yet-young career, he's in a car that isn't the class of the field. Most drivers have to work their way up the grid, going from scrappy fledgling teams and impressing their way into the premium machinery, but Hamilton, a wunderkind nurtured at McLaren's mighty teat, started off in their fantastic chrome cars and found himself fighting for victories and podiums instead of wrestling with backmarkers. McLaren had built a driver exclusively to shine as blindingly as their perfect paintjobs, and shine he did.
Till, two years ago, other teams started glistening much brighter. The never-impressive Honda team showed up stripped of all colour and, reincarnated thus as Brawn GP, made it look as if the competition were on roller-skates. Jenson Button, a fine but underwhelming driver who the world had written off, stormed to victory even as other teams struggled to catch up with Ross Brawn's white wonder cars.
The team that did catch up -- a little too late to beat Brawn in 2009, but solidly enough to establish their own continuing dominance -- was Red Bull. Their driver Sebastian Vettel, a German racing prodigy all-too-quickly nicknamed "Baby Schumi" by the media, having made his way up the F1 field with near-Michaelian efficiency, was leading and loving every second of it. A dramatic 2010 saw Vettel having to battle against his own teammate Mark Webber, Ferrari's Fernando Alonso, Hamilton and Button, and battle Seb did, coming through in the clutch to become -- you guessed it -- the youngest champion in the history of the sport.
2011 has belonged to Red Bull. In what seems like a phenomenal commercial for the energy drink, the team has been so infallible that they, along with their increasingly awesome champion driver, have earned F1's most flattering accusation: that of making the sport boring. So routine has become the sight of Sebastian driving his way to the top step of the podium that this year's most dramatic fight has been the tussle for second place. First there's Seb, then there's the race.
And, relegated thus to Vettel's scraps, Lewis has driven like a moron. He's caused crashes, he's been slapped on the wrist and not learned a thing, and even sparked off a feud with Felipe Massa, singlehandedly turning a most congenial driver into a bitter, pigheaded whinger. Hamilton's frustration at McLaren's inability to catch the Bulls is understandable, but his juvenile tantrummy driving isn't the response befitting a champion.
His teammate has, meanwhile, used the same machinery to overtake more cars on the track this year than any other frontrunner, and just about claimed that second place, which has rarely been as big a prize. Button's been striking all year, and could yet be pipped to that second post by Fernando, flogging his Ferrari far out of its second-rate skin all season, but Hamilton has shown he has some way to go before he can be compared with Alonso, the completest driver in current F1 -- and the driver Lewis had beaten back in 2007, when they had the same shiny wheels.
Five days ago, Hamilton won at Abu Dhabi. He looked the fastest all weekend, led the race from the second corner, and didn't put a wheel wrong. Yet while he will treasure finally nabbing another gleaming souvenir for his trophy room, the victory will ring somewhat hollow simply because he inherited it when Vettel, as if to compensate for too much invincibility, left the race right in Turn One.
Luck surely plays a major part in motorsport and its results, and Hamilton did beautifully to commit to Sunday's race and keep the ever-attacking Fernando at bay, but he'll need to sparkle a lot brighter than that to start winning back his shine. The British press might be showering him with hosannas, but he isn't out of the woods just yet.
We can never presume what the late great Ayrton Senna would have thought of your year, Lewis, but the word 'impressed' doesn't leap to mind. And please, please leave his face alone.