Red Bull's Australian Mark Webber roared back to form and denied world champion team mate Sebastian Vettel a third successive British Grand Prix pole position at a damp Silverstone on Saturday.
It was the team's ninth pole from nine races this season and Webber's second in a year that has yet to see him beat Vettel on a Sunday.
The German, 77 points clear of McLaren's Jenson Button and Webber with 10 races remaining after Silverstone, extended his run of successive front row starts to 14 with second place on the grid.
Webber was keen to put sport back into the limelight after a morning dominated by team meetings and arcane argument about engine regulations, and whether Red Bull had been disadvantaged by a fresh directive before final practice.
"Seb and I just concentrate on the driving," said the Australian, who won last year's race after Vettel took pole, of all the technical polemic.
"Every year we have a new thing to talk about, this last few weeks has been about this (the engine and exhaust regulations), so let's hope everyone can find their common ground.
"It's incredibly boring also for the fans. I think they cannot understand 0.1 percent of what is going on. Even for us it is sometimes difficult. Let's get on with the racing and keep the rules as simple as possible.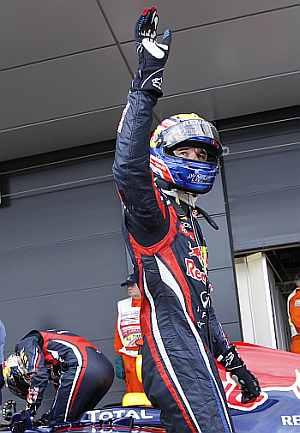 "From my perspective for tomorrow, I'm in great shape and have prepared well."
Ferrari filled the second row, with double world champion Fernando Alonso qualifying third and Felipe Massa fourth ahead of McLaren's Jenson Button, hoping for his first home podium finish in F1.
McLaren's Lewis Hamilton, dominant winner of his home race in 2008, qualified only 10th on an afternoon of changing conditions and with the risk of sudden showers complicating strategy decisions.
"I don't think the position is too bad but the pace is," said Button.
"It wasn't a perfect lap, we lacked balance. I don't know where our pace has gone; I can have a guess but we haven't built a car that's 1.3 seconds slower than the Ferrari," he added.
Hamilton was equally disappointed.
"There's not too much to say. The fans here are fantastic. The support we've had has been magnificent. Hopefully tomorrow we can do something special for them, get some points at least," he told the BBC.
"I've probably got a couple of people in front who I might be quicker than. Overtaking here is difficult but we could still have an exciting race," he added.
One Briton who was delighted with his afternoon was Force India's Paul di Resta, qualifying an impressive sixth for his first British GP.
Venezuelan Pastor Maldonado did a good job for struggling Williams with seventh place on the grid, ahead of Japan's Kamui Kobayashi in a Sauber and Germany's Nico Rosberg for Mercedes.